Vodafone Review &amp Coverage – Is Vodafone any good in 2023?
Vodafone is one of the "Big Four" networks in the UK, and they now have 5G available up and down the UK. But before choosing a mobile network for your needs, you need to know how good its coverage is. Different networks offer varying levels of coverage depending on the area you live in.
To make an informed choice, make sure to read reviews on Vodafone network coverage, and how good it is in your area, before taking out a new Vodafone SIM Only contract.
Vodafone is a great network for those who have larger budgets and/or need lots of extras & perks. There are several other benefits to using Vodafone as well which we will cover here. If you're still not sure if Vodafone is right for you, read on to learn more.
Vodafone SIM Only Review: A Quick Summary
Here are the main benefits of the Vodafone network in the UK:
Decent 5G coverage
Not the best customer service
Generous data allowances
But no longer provides free roaming
British owned
What Vodafone SIM Only plan is best?
Whether you need unlimited SIM only data for your business or personal use, Vodafone offers plenty of plans to suit your budget. You can choose unlimited data on all tariffs.
However, keep in mind that there are some limitations with so-called unlimited data. Firstly, it isn't truly unlimited, it is subject to a fair use clause. You can read Vodafone's here.
Secondly, if you want to enjoy faster browsing, you'll need to pay extra for the speed. If you need a lot of data, Vodafone may be the right choice for you. Its network is also very reliable, according to RootMetrics - more on that below.
That said, the best Vodafone SIM only plan we have come across, according to their page here, is the completely unlimited 12 month contract. It contains everything you need - everything unlimited - and also you get a month of Disney+. The cost for a 12 month contract? £19 a month.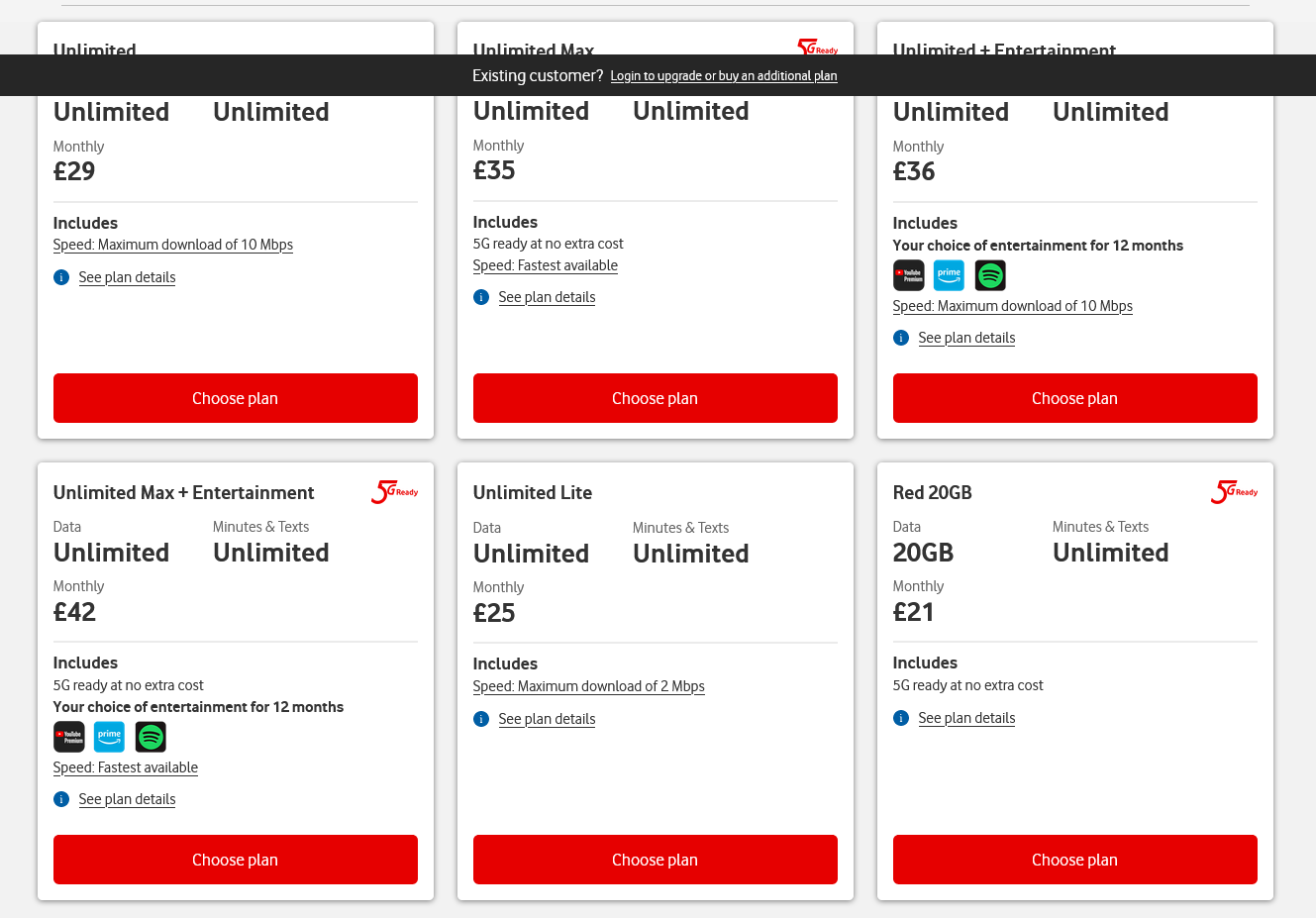 Vodafone Review: Roaming & Allowances
Vodafone has decided to reinstate roaming charges for Britons travelling in the European Union (EU). This will see Brits pay £2 per day for data, calls, and texts. Roaming charges were abolished in June 2017 but Vodafone has decided to bring them back.
The roaming charges will be effective from September 2021 and will cost £2 a day per person. But do you really need them? Read on to learn more about this change.
If you're concerned about roaming charges or need a SIM only plan with generous roaming/international minutes, compare this with Lebaraor Smarty SIM Only.
By comparison, Three's SIM Only has a Go Roam initiative that allows customers to use their allowances in over 70 countries worldwide. The company's Go Binge service, doesn't count media streaming services against your data allowance ,and it also excludes YouTube, Netflix, and Apple Music.
Furthermore, Three's Go Roam plans are among the cheapest PAYG rates in the UK. They charge 3p per minute for calls and texts, and 1p for data, which is great for travellers.
Vodafone Review: Coverage Map
Vodafone's network has been around for decades, covering much of the UK and Europe. Its 4G LTE coverage is excellent, covering 99.9% of the population.
View the coverage map / checker for Vodafone here.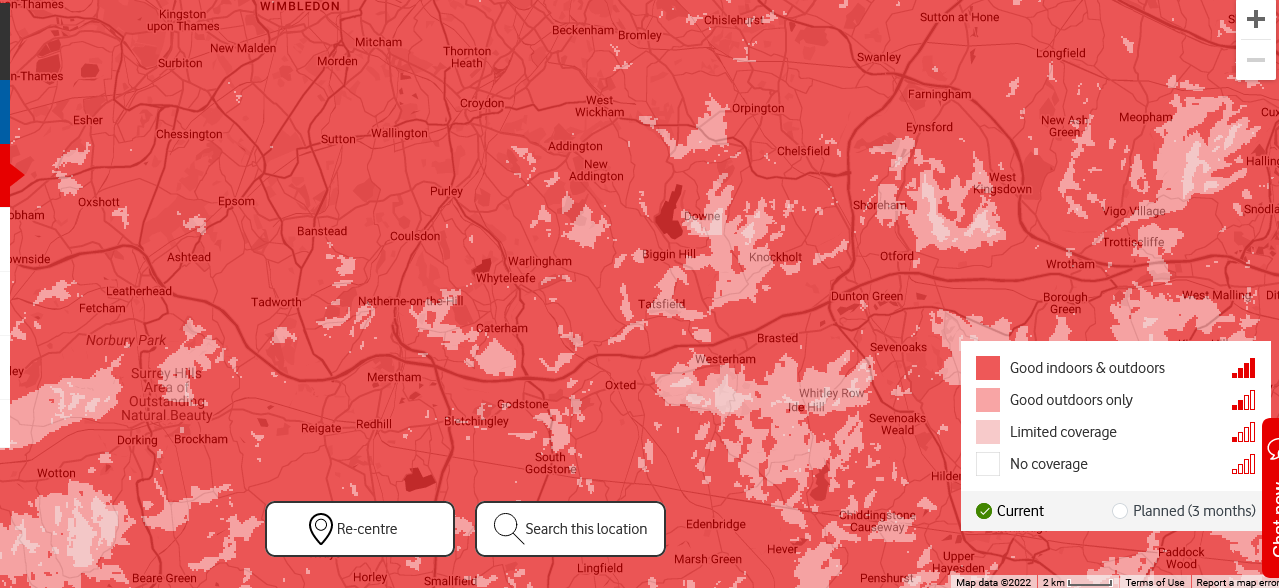 What about Vodafone 5G Coverage?
Vodafone has recently expanded its 5G network coverage, having won the 5G spectrum auction a few years ago.
In mid-2019 it became the second network to begin rolling out 5G, after EE got there first. Vodafone's 5G SIM only plans now have data allowances that are unlimited, but if you don't need 5G data then consider comparing all SIM only unlimited data allowance plans (for 4G and 5G).
Even when you forget about the general unlimited 5G data allowances, customers can still find ways to make use of their plans.
For mobile users, Vodafone offers a variety of options, including unlimited texts and minutes. The majority of its long-term mobile contracts include unlimited texts and minutes. However, the cost of these contracts may be higher upfront than the monthly fee.
Budget mobile operators also offer cheaper SIM deals. However, these deals may not include the same benefits as Vodafone contracts. If you are looking for the best value and the lowest monthly fees ONLY, look for a SIM deal from a budget mobile operator - you won't be able to get the cheapest deal with Vodafone, as they include lots of bundles.
Despite Virgin Media's late arrival to the network scene, that MVNO network is a good option for those looking to save money. Its data rollover options and free messaging options will appeal to many users. Unlike Vodafone, Virgin Media has no data cap, so you can use your data without eating up your allowance. This feature is great for social media and text messaging without worry of eating into your allowance.
5G roaming abroad with Vodafone:
When it comes to UK mobile networks, Vodafone is one of the most popular and has excellent coverage. This mobile network also boasts decent roaming options and good entertainment extras. Although customer service isn't always great, the network is still reliable. You can choose between SIM-only deals and mobile contracts, and they all come with a range of extras, including unlimited calls and texts. However, there are some cons to using Vodafone as your primary network.
The Vodafone network is available in many parts of the UK, and it has been rolled out in several cities. However, its 5G coverage is still only partial, and it will take years for its network to reach complete coverage. 5G is the next generation of mobile connectivity and offers lower latency, higher capacity, and increased bandwidth.
As a result, you'll be able to download, stream, and browse faster. With this technology, even 8K and holographic video may become possible.
Is Vodafone's 4G coverage any good?
The Vodafone UK mobile network is the UK's legacy network, in that it has the best 3G and 4G coverage. 3G is about to be phased out - indeed some networks have already started turning it off..
3G while dated, is available throughout most of the country and much of Europe. Vodafone currently has 4G LTE coverage in 97% of the country, and in some cities it even offers superfast 5G service.
In terms of overall coverage, the Vodafone network has the best indoor signal, followed by O2's SIM Only offering - and don't forget, last but not least, Three. In the UK, most mobile phone users have full indoor and outdoor coverage. In rural areas, the Vodafone network's coverage varies widely. Geographically, EE has the best 4G coverage, but Three and O2's networks cover less than a quarter of the landmass. As such, it is important to check the coverage before choosing a network.
Tip: Read our VOXI coverage & blind spot review.
What if I can't get 5G?
The UK Government has been busy investing £500 million to improve mobile coverage in areas that currently have no coverage at all - that means not even any 4G network.
The SRN also includes masts built as part of the Home Office's new Emergency Services Network. Together, the SRN and ESN will bring 4G coverage to 95% of the UK's landmass by 2025. The Government is supporting the project with a dedicated SRN website. It offers updated coverage forecasts and FAQs.
In 2017, Vodafone launched two new features: 30 days of network satisfaction and Flexi-Upgrades. The former allows users to decide whether they like the network after 30 days, while the latter lets them upgrade after 6 months, provided they have a certain amount left on their contract.
Overall, the coverage of Vodafone's 4G network is impressive, and it's easy to use and understand. You'll be able to watch video content without any problems, even if you're travelling by car.
Vodafone's 4G network coverage varies between cities and rural areas quite a lot. In areas with pure 4G coverage, Plusnet is probably our top choice. It doesn't offer 5G at all, so its prices are crazily cheap for most SIM only plans.
Three might be a good solution as it offers unlimited data packages and SIM-only deals. Three also has the largest number of 5G connections in the country.
Customer service at Vodafone
If a problem arises with your mobile phone or SIM deal, Vodafone offers live chat and a dedicated complaint department. They also monitor community message boards. You can also send an email or write a letter to submit your complaint.
As one of the UK's largest telecoms providers, Vodafone offers 99% coverage on 3G, and 4G networks. Despite this, LTE-Advanced service is not available everywhere in the country. While Vodafone strives to provide the best coverage, it does not always deliver what it promises. Regardless of how impressive Vodafone's coverage is, it can cause you a lot of trouble if you're not careful.
Customer service is a big drawback for us, but Vodafone claims it is working hard to improve its customer service. In recent Ofcom surveys, Vodafone's customer service team has shown signs of improvement. Moreover, its mobile signal is generally very good, according to industry statistics.
If these issues can be resolved, Vodafone is a viable option for UK mobile customers. So, if you're looking for a mobile network, Vodafone is definitely worth looking into.
How do I complain about Vodafone?
If you're not happy with the response you receive, you can file a complaint with the independent regulatory body Ofcom. Vodafone customer service - based in the UK and India - also offers a page with how they are dealing with complaints.
The company has a high level of customer satisfaction when it comes to handling complaints. While 57% of mobile phone customers reported being satisfied with the way complaints were handled, this was only half as high for landline telephone customers. Technical support calls took an average of 2.5 times longer than sales calls. The longest average call wait time was for Plusnet. About one-fifth of its customers were not able to reach a live agent.
That said, their Trustpilot page makes grim reading. It is littered with complaints and only receives a rating of 1.3 out of 5 - very low.
If it's rock solid customer support you are after, then maybe give Vodafone a miss and try another network like Lycamobile SIM Only tariffs as they're often said to be the most reliable.