Reasons to choose a SIM Deal for Lebara:
Lebara SIM Only Deals come with a range of benefits, including unlimited UK minutes and texts, a minimum of 1000 texts, and 100 minutes to over 41 countries. Lebara SIMs work on a rolling 30-day basis. You can upgrade your plan by adding bolt-ons, including extra data. As an extra benefit, Lebara SIMs are also available with no credit checks.
As of the time of writing, Lebara impose no restrictions on the amount of data you can use, aside from their fair use policy. Which means that they're perfect for those looking for a SIM that's without boundaries.
What network does Lebara use?
Lebara is a mobile virtual network operator (MVNO) that uses the Vodafone network. Vodafone network is reliable and has decent coverage in most areas of the UK and most countries around the world.
If you're not sure if you can get coverage there where you are, check the Lebara website map here.
What SIM only plans does Lebara offer?
Lebara offers nice and simple price plans and has excellent coverage for international calls. If you don't want to commit to a contract, you can cancel it anytime, they are all on a rolling contract.
In other words, you can change after the first 30 days, or continue. Compare all 30 day SIM Only plans here.
After the initial 30 days is up, you can choose another Lebara deal if you are dissatisfied with the coverage. Or, you can change to another provider altogether! So there isn't much risk.
Is the Lebara signal any good?
The mobile network of Lebara is powered by Vodafone, which offers coverage in 98% of the United Kingdom. Lebara now also offers a 5G network that is both fast and reliable. Data speeds average around 200Mbps. While it's not as good as the network of other providers, Lebara has several other perks where others do not.
The company's plans come with decent data speeds, which are adequate for browsing and streaming content.
Lebara Mobile offers flexible plans that include unlimited calls and texts to international destinations. Its network coverage is 98% in the UK and international calls are free. The company has been around for over 20 years, and the company has worked with Vodafone for more than a decade. Today, it offers flexible plans and unlimited data SIM only deals for its customers. With the support of Vodafone's network and customer service, Lebara continues to grow and provides a great value mobile service for a reasonable price.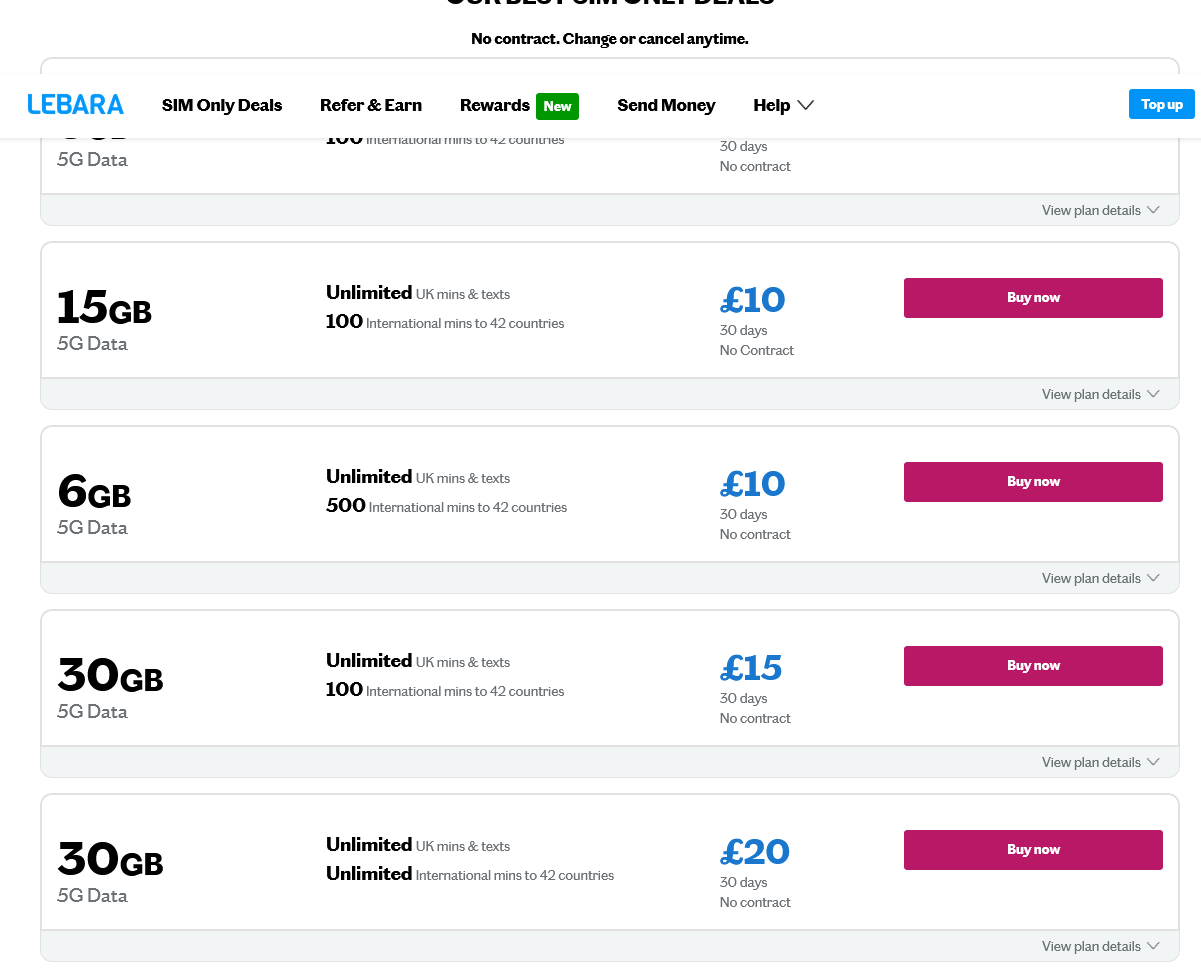 Does Lebara do 5G?
Yes. You can see all the details about the 5G launch here.
While the coverage of the Vodafone network is high, it's not as good as the coverage offered by other mobile operators. While Vodafone's 4G coverage is excellent, it is still rolling out its 5G network. If you are concerned about reception in your area, use Vodafone's coverage checker to find out if you can get 4G or 5G. You can also see if Lebara offers any 5G plans.
Best Lebara pay-as-you-go plans
Lebara SIM Only plans are a great way to get mobile service without having to worry about contracts or overage charges. The SIM cards come loaded with allowances, and monthly amounts vary depending on the bundle. You can choose to pay for thirty days or a year if you prefer. You may also buy used phones and avoid contract fees with a SIM only plan. There are no credit checks or minimum contracts, which makes Lebara SIM Only a great choice for people who might have poor or no credit history.
The best part of the Lebara plan is that it is cheap and flexible, so you can choose from seven different pay-as-you-go plans. Most of them include unlimited UK texts and calls, as well as a basic two-gigabyte data plan. Some also offer unlimited international calls, ranging from 100 minutes to 41 countries. To use Lebara's SIM, you must purchase a handset separately, though you can choose an unlocked handset if you want to use your phone internationally.
What about Lebara roaming on SIM only?
Unlike other pay-as-you-go SIM plans, the Lebara SIM Only plan includes international roaming, so you can use it to make calls to other countries. You can also use this plan to make international calls to 42 countries, as well as to call other networks in the world. In the UK, Lebara are pretty much synonymous with international calling and roaming, so the deals are very strong.
The only alternative that has similar levels of generous roaming allowance is Lycamobile.
Are there any hidden Roaming charges with Lebara SIM Only?
You will have to pay the usual international roaming rates, but you can use your minutes abroad without having to worry about extra costs.
Lebara uses the Vodafone mobile network, which offers coverage in 98% of the UK. Unlike most other UK mobile networks, Lebara is a mobile virtual network operator, so it uses another provider's infrastructure. Although the 5G network is not as advanced as other networks, all Lebara plans include this service. As long as you have an unlimited data plan, you'll have no problem using the internet.
Does Lebara Mobile perform credit checks?
The biggest advantage of Lebara SIM Only UK is that they don't perform credit checks. You'll get a 30 day bundle of minutes, texts, and data. You can also make free international calls. Unlike other SIM providers, Lebara doesn't conduct credit checks. However, you should be aware that Lebara does limit the amount of international calls you can make. The best way to avoid this is to choose a plan that includes unlimited international calls and texts.
Signing up with Lebara is easy - the company boasts that you can sign up within 60 seconds. They also offer many international calling plans, which include a certain amount of minutes to call abroad. Typically, the company supports 42 countries. Lebara also doesn't perform credit checks, which is another plus point for this company. You can also cancel your contract at any time.
Lebara SIM Only UK has many benefits. One of the best features of this company is its lack of credit checks and price hikes. They are also often known for their half-price bills, which allow you to get a lower cost for a certain period. In addition to these benefits, Lebara also has a low price for international calling. The company's plans allow you to call up to 40 countries with their inclusive minutes. You can even tether a device to a SIM plan. The company does not perform credit checks, so you can save a lot of money on your international calls.
As a result of their low cost, Lebara SIM Only UK plans are the most affordable in the mobile market. In addition, these plans offer unlimited UK minutes and texts. In addition to the low monthly costs, the company offers unlimited international calls to 42 countries. So, if you're looking for a SIM only plan, this is the one for you. It's not a bad choice, and it's definitely a great alternative to other mobile network deals.
If you are looking for other networks and want to consider all options, we recommend as an alternative to Lebara, the following:
VOXI, great for Wifi-Calling which can be used for int'l calls
Lycamobile, another great choice for roaming
Virgin Media, while they do credit checks, their roaming bundles are very good
Lebara Mobile: About international calls
While most prepaid SIM cards come with very few minutes (if any) of international calling, Lebara gives you at least 30 minutes with most plans. If you ring abrad a lot, for example: India or Pakistan, then Lebara are a must.
Rivals also have a set monthly data limit, many of the Lebara SIM Only UK plans do not.
Currently, there are the following allowances for monthly data:
15GB of data for £10 a month, with 50 minutes international calls
6GB of data for £10 a month, with 100 minutes international calls
The fact is, there are many Lebara plans with a multitude of different international roaming mintues included; you will need to decide which plan is best for your needs.
Are all Lebara SIM plans 30 days?
No.
Lebara allows you to use as much data as you need for 30 days. You can cancel your plan at any time. You can also switch to another SIM card if you have run out of data on the current plan. You can also choose a different amount of data for each month.
The Lebara network has a wide range of deals available, ranging from a basic 2GB plan to unlimited texts and UK minutes. The plan does not limit data or text, and you can cancel the service at any time. You can also choose from a range of international calling allowances, from 100 minutes to 41 countries. The Lebara SIM Only UK plan comes with no contracts or monthly fees and you don't need to worry about overcharging or losing your phone.
Lebara SIM Only UK offers a variety of plans for tourists too, or short-term visitors to the UK. They are particularly popular with EU residents.
Lebara SIMs come with free UK (unlimited) minutes and unlimited texts. You only need to pay for data bundles. The most basic plan costs £5 and includes 2GB of data for 30 days. You can get more data packages if you need them. This plan is ideal for tourists who travel frequently to the UK. It's a good option that's also cheaper than the other prepaid sim cards available.
Need international minutes? Try Lebara
Lebara SIM Only is pretty much synonymous with calling abroad. But it's more than that; it has been offering cheap mobile plans for many years. Its SIM-only deals are ideal for travelers, international workers, and migrant communities. These plans include unlimited UK calls and texts and have low monthly costs.
This is a great choice for travellers as you can call and text from any country in the world for less than a 1p per minute. You can also upgrade your plans with extra bolt-ons if you want to make international calls and texts. The Lebara network has a great reputation and has 98% coverage in the UK.
Is Lebara Mobile any good?
The current rating of Lebara Mobile across their entire European network is 4.7 out of 5. Read all the Lebara reviews here on Trustpilot.
This is one of the highest ratings we've seen - people are very happy with Lebara.
The Lebara SIM Only UK plans offer international minutes and are priced competitively with other networks. Their no-contract SIMs are cheaper than most, and they don't require credit checks or pre-payment fees. Because they don't have any contracts, Lebara SIM Only UK is a great choice for those looking for a SIM-only plan. Lebara SIM Only UK is an excellent choice for those who want to phone abroad but don't want to pay the extra money for international calling.
Conclusion: Lebara SIM Only plans
The Lebara SIM-only UK plans have international minutes allowances ranging from 10 to 41 countries. The plans also offer international data, texts, and 5G data. These plans are a good choice for people who travel often or want to stay in touch with friends and family overseas.
There are other companies who offer international minutes, including Lyca Mobile, Vodafone, and Three. These three providers offer similar plans with different international destinations.
However, for roaming alone, they are not as inclusive as Lebara's plan. They also have lower monthly plans, but they do not all include international destinations. When shopping for an international SIM, it's best to shop around for a plan that offers international minutes. In this way, you can be sure to find the right plan for you.
Cheap Lebara SIM-Only Deals: Overview
Lebara Tariff Features
🔥 No. of Good Reviews for Lebara
361+
🔥 Average Lebara Tariff
£12 a month
🔥 Avg. Contract Term
4 months
🔥 Typical Data Allowance
16 GB
🔥 Number of Unlimited SIM Plans
3
🔥 Lebara Credit Check
Not needed
🔥 Accepts UK Customers
Yes
In trying to locate SIM Only deals for a range of networks in the UK, not just Lebara, we've weighed up the pros and cons of each one. If you're still unsure if Lebara is right for you then check our summary below of today's best SIM deals for Lebara. If you still need help, then we suggest to read our FAQS for Lebara SIM deals below, or you can always get in touch with the SIMOnly.Deals team on socials.
FAQs for Lebara SIM deals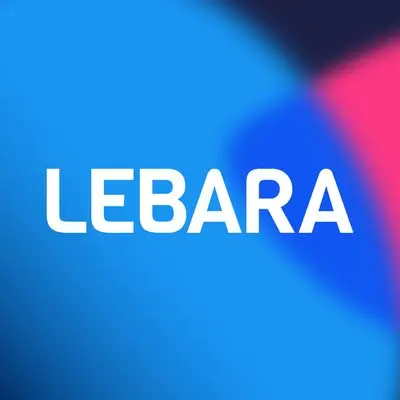 What is the best SIM Only plan for Lebara?
Currently the best Lebara SIM-only plan costs £10 giving you unlimited minutes, unlimited texts and of course unlimited data. With Lebara you can also set a price cap.
Can I get 5G data with Lebara?
It depends, 5G SIM deals on Lebara are really popular so make sure you get enough 5G data to cover your needs.
How much can I save with Lebara 30 day SIM only?
It of course depends on what phone you would have bought. But with a Lebara SIM Only plan or contract over 30 day, you can of course cancel any time and switch. You are not tied in with Lebara 30 day deals.