Reasons to choose a SIM Deal for O2:
O2 UK SIM Only Deals and offers are available for both mobile and landline users. To compare these deals, you can use our interactive tool. Choose the amount of data you want, contract length, and mobile networks you want to use. You will then be shown a list of deals based on these criteria. You can also compare O2 deals with deals from other providers of coverage. This way, you can find the best deal for your needs.
O2 SIM Only Plans: The finer details
If you're looking to upgrade your mobile phone or SIM card, O2 has a wide variety of options available. You can choose from full-size, nano and micro sims. These SIMs are suitable for modern smartphones and older block phones. If you're buying a new phone, O2 SIM cards are compatible with all major carriers and can be used straight away. You can also download the priority app, which offers special perks and prizes.
The majority of O2 SIM card plans come with unlimited texts and calls, but data caps vary significantly. The most basic range has a 1GB data cap, which is incredibly cheap. However, the most popular range is between five and ten gigabytes (GB) of data, which is enough for intensive social media, maps and internet searches. Streaming and downloading up to 10GB of data is possible on these plans.
If you plan to use your O2 UK SIM card overseas, you should know that the provider has varying coverage in different areas. You will need to ensure coverage in the area you will be visiting and be aware of any limits. However, most networks do provide some roaming for free. While you can still use your O2 UK SIM card overseas, it's best to avoid roaming costs. It's also important to know the size of your O2 UK SIM card, as they can vary widely.
If you need to use a different network from the one that come with your phone, you might need to unlock it. Many phones come unlocked now, but you'll need to ask your network if you're still on a contract. Most of them are unlocked for free.
If you're on a contract, you can ask your network to unlock your phone for you, but this can be a hassle. For example, if you are using a contract with Three, then you will need to wait for the contract to finish before unlocking and switching to a SIM-only deal with another network.
Another option is to go from contract to a Three SIM only deal, i.e. with the same network.
O2 Network & Coverage
SIM Only Deals on O2 have many advantages over contracts. For starters, they are more affordable. They also include a range of extra benefits for existing O2 customers. For example, if you're an existing O2 customer, you can get 20% off your Airtime Plan simply by texting 'LOYALTY' to 21500 within 28 days of joining. Additionally, you can add up to five refresh contracts and up to twenty multi-save discounts. If you're a new O2 customer, you'll want to read up on these offers carefully.
The company's network has great coverage in the UK, covering nearly 99% of the population.
Here's a map showing the coverage and black spots: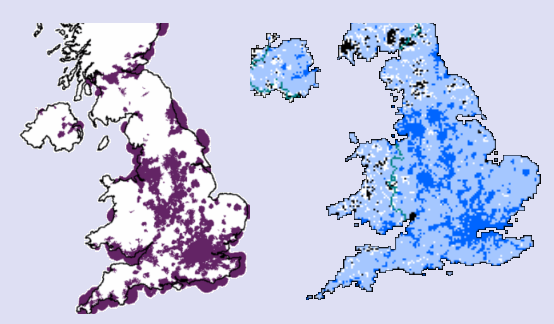 You can also check third party websites like this to find out more on the REAL level of O2 coverage.
Moreover, O2 offers customised plans where you can select the length of your contract, data allowance, and price. Additionally, O2 used to offer a referral scheme where you can get Amazon UK vouchers just by referring a friend but this offer isn't live at the moment. However, incentives shouldn't be your only deciding factor. Make sure you read the fine print before signing up for a SIM Only plan.
O2 SIM Only Deals come with plenty of free goodies. Some include up to 160GB of 5G-enabled data over two years, three free months of Apple Music, and Disney+.
Another option is to buy a SIM with an unlimited data plan. However, if you're looking for a shorter-term SIM plan, you might want to consider purchasing a SIM with a 30-day contract. O2 SIMs can be purchased on 12-month, 24 months, and 30-day contracts.Yes, we now have 2 year SIM Only deals, but they represent good value!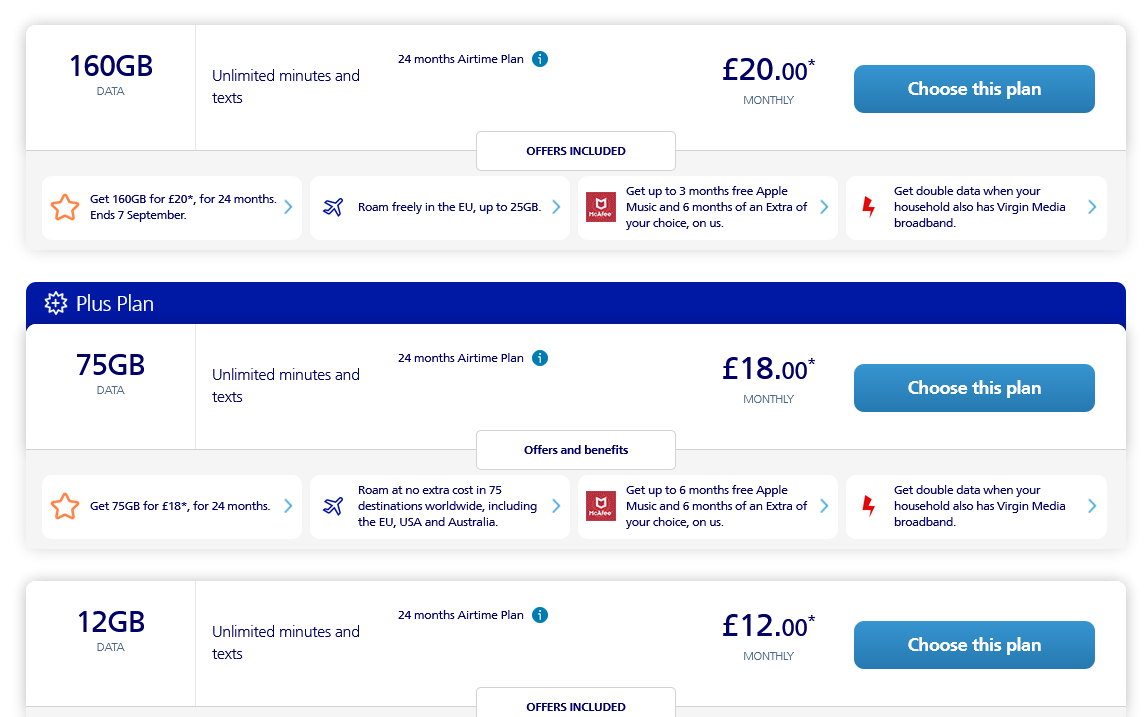 While most plans come with a commitment to a year or more, these flexible contracts let you change your mind on a monthly basis.
If you're looking for an inexpensive SIM Only deal, O2 is the network for you. O2 is one of the few networks that offer data roaming free in the EU. In addition to free data roaming, this SIM only plan is also cheaper than contracts, allowing customers to pay for what they use. You can even get a 40GB 5G SIM with no contract for £10 a month for 12 months.
O2 extras explained - Are they worth it?
The O2 SIM only plan includes a host of free extras, including unlimited calls and texts. You'll also get free Apple music and Disney+ and you can download apps like Audible and Calm. Some plans also include early access to movie and TV ticket launches. Other benefits include early access to music festivals and free sausage rolls at Greggs.
O2 is one of the original mobile networks in the UK, and it has a great range of SIM only plans, including contract lengths, data allowances, and freebies. The service is reliable and offers excellent coverage. While the network is not the cheapest, O2 has some of the strongest deals. You'll also get exclusive O2 Priority benefits, like early access to gig tickets, events vouchers, and more.
If you're looking for an affordable SIM contract, O2's SIM only deals are a great option. O2's website has an interactive comparison tool to help you find the best deal for your needs.
How much data do I get with O2?
You can choose the amount of data you need, the contract length, and the network you want to use. Once you've chosen these factors, O2 will display a list of SIM only deals with their terms and conditions.
The pre-built plans are the best choice for customers looking for a cheap SIM only contract. The flexibility of these plans makes them an excellent option for people with varied needs. If you have a tight budget, O2 can provide the right phone at the right price. With O2's pre-built plans, you can choose to get unlimited texts and minutes. Additionally, O2 offers data rollover and bolt ons for SIM-Only, meaning you can use your data whenever you want.
What networks use O2?
As one of the "Big Four" networks in the UK, O2 also lease their network to other smaller companies. These include:
giffgaff
Sky Mobile - read our Sky Mobile review
Tesco Mobile - read our Tesco Mobile review
You can compare Giffgaff SIM plans here.
So if you are struggling to find an O2 contract that matches your requirements, then try using one of the above MVNOs.
Data allowances at O2 - are they any good?
There is no need to worry if you've hit your daily data allowance as a user of O2 UK SIM Only. The company offers unlimited texts and calls with no data cap on SIM plans. However, the data cap on SIM plans varies wildly. A one-gigabyte plan is the cheapest option, while a five-gigabyte plan is the most commonly purchased. It allows for intensive use of social media, internet searches, maps, and streaming. However, if you're looking for an unlimited plan, you should consider a 10GB plan.
But not all Unlimited plans are equal, so if you are not sure if you want to go with O2 or not, then compare all unlimited SIM Only plans here first.
The O2 network is widely-available in the UK, covering 99% of the population. O2 UK SIM Only deals include free access to O2 Wi-Fi hotspots, unlimited texts, and a variety of extras. In addition to unlimited data, you'll also have the freedom to choose your contract length. Most plans come with a one-year contract, but you can also choose a 12-month or longer option to save money on the monthly cost.
When it comes to O2 UK SIM Only plans, you'll find that you can mix and match depending on your needs and your budget. Depending on your needs, you can choose a contract length of 30, 12 months, or 24 months, and select how much data you want to use each month.
How long are O2 SIM Only plans?
Some plans come with lower data allowances and more expensive upfront fees. The monthly fee ranges from one gigabyte to two gigabytes, and the amount of data you'll be able to use depends on your handset and plan.
If you're looking for a monthly contract, you'll be happy to know that O2 UK SIM Only plans are incredibly affordable. Prices start from £30 a month, with student and family discounts. In addition, there are custom-designed 5G SIM plans available to select your contract length and data allowance. Most SIM only plans are cheaper than the major UK networks, and you can change them at anytime.
Can I call abroad with O2 SIM Only?
O2 UK SIM Only Deals and offers for calls abroad are perfect for travellers who are looking for affordable calling plans. These deals are valid for a year and include unlimited international calls, which means that you can talk to as many people as you want for a very low cost.
You can even get free delivery to New Zealand and Australia if you buy your SIM only deal from O2. These deals also allow you to make calls to more than 40 countries for free.
When comparing the cost of calling abroad, you must consider the countries you want to call. Calling rates may be higher on other networks, so you need to make sure that you are aware of this before purchasing a plan.
However, international calling costs are usually lower with dedicated SIMs from the bigger players. And, while the cost of roaming is low in Europe, any PAYG option will cover the continent fairly well. You should also pay close attention to the small print of the contract as it will dictate the countries you can call from.
Conclusion
The best plans from O2 gives you unlimited calls and texts, but you can also choose a more expensive plan with a data cap. If you plan to use social media, maps, or the internet extensively, you can opt for a 5GB or 10GB plan. Moreover, you can use Skype or Rebtel apps for free. So, whatever your travel needs are, O2 SIM Only Deals will provide you with affordable calls abroad.
Consider these alternatives to O2: Lycamobile, which runs on the same network, and Three.
Cheap O2 SIM-Only Deals: Overview
O2 Tariff Features
🔥 No. of Good Reviews for O2
77+
🔥 Average O2 Tariff
£12 a month
🔥 Avg. Contract Term
1 months
🔥 Typical Data Allowance
22 GB
🔥 Number of Unlimited SIM Plans
8
🔥 O2 Credit Check
Not needed
🔥 Accepts UK Customers
Yes
In trying to locate SIM Only deals for a range of networks in the UK, not just O2, we've weighed up the pros and cons of each one. If you're still unsure if O2 is right for you then check our summary below of today's best SIM deals for O2. If you still need help, then we suggest to read our FAQS for O2 SIM deals below, or you can always get in touch with the SIMOnly.Deals team on socials.
FAQs for O2 SIM deals
What is the best SIM Only plan for O2?
Currently the best O2 SIM-only plan costs £10 giving you unlimited minutes, unlimited texts and of course unlimited data. With O2 you can also set a price cap.
Can I get 5G data with O2?
It depends, 5G SIM deals on O2 are really popular so make sure you get enough 5G data to cover your needs.
How much can I save with O2 30 day SIM only?
It of course depends on what phone you would have bought. But with a O2 SIM Only plan or contract over 30 day, you can of course cancel any time and switch. You are not tied in with O2 30 day deals.