Reasons to choose a SIM Deal for giffgaff:
Before signing up for giffgaff SIM Only deals, it is essential to understand a few things about the giffgaff network.
We'll talk about the best deals to pick, and even details like the sizes of a giffgaff SIM card and how to choose the right one for your phone. We'll also discuss how to find out your PAC code, a key to unlocking the giffgaff SIM card.
Are giffgaff SIM Only plans any good?
A SIM only deal doesn't include a mobile phone, so you'll still need a compatible device. For example, if you're using a tablet or dongle, you'll need a SIM that works with your device and also the giffgaff network.
If you're planning on using a SIM only deal abroad, try the Goodybag option from giffgaff (more on these below). SIM only plans on the official Giffgaff website are generally some of the best around, particularly if you want a nice, simple and easy to understand pricing plan.
Giffgaff SIM only: Roaming details
If you're not into travelling then that's okay, you can choose a SIM that has a data only allowance, or a SIM plan that lets you use your phone as a hotspot.
However for those who want to enjoy free roaming on holiday, Giffgaff is worthy of your consideration. A SIM only deal may also allow you to travel internationally with the phone, and you can use it in many EU countries, as well as a few other countries - known as roaming.
Thankfully, roaming with giffgaff is easy, but be aware of the charges outside of your plan. The best giffgaff SIM only contract currently has a roaming cap of 20GB and 63 days over four months, so if you go over that amount, you'll need to top up your credit.
Whether you're planning to use your mobile for business or pleasure, a SIM-only deal from giffgaff will give you the flexibility to enjoy the same benefits that you'd get with a prepaid plan from a "traditional" network.
About giffgaff's SIM plans & prices
Giffgaff's plans are easy to understand, and you'll love the fact that you can pay the full price in advance or pay monthly.
You'll also get unlimited data and texts with EVERY plan, and their SIM only plans are a good deal for those who need coverage in England, Scotland, Northern Ireland, Wales and Northern Ireland.
The only variable that you need to be aware of, is how many GBs of data you get every month.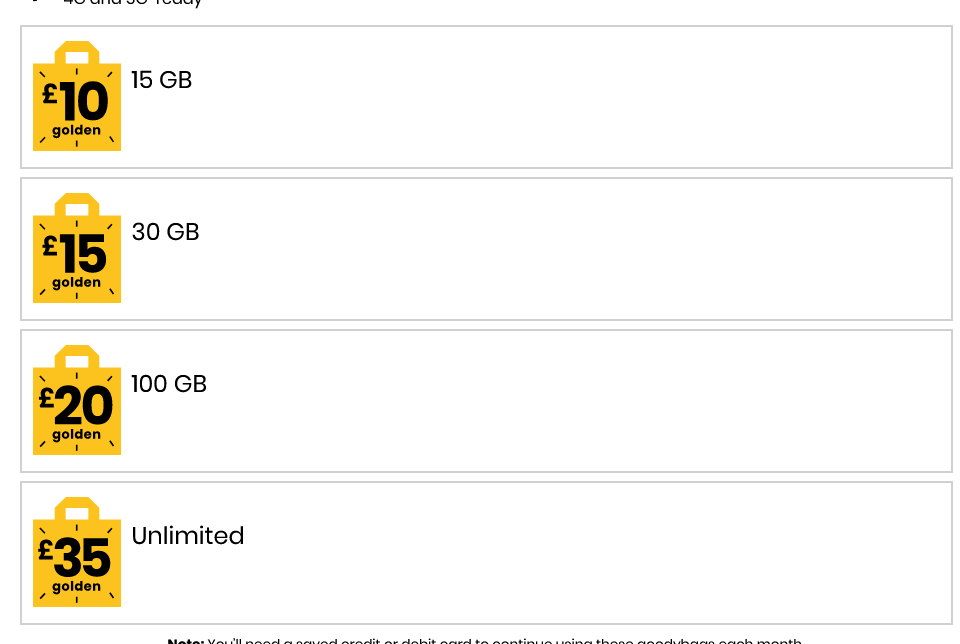 We recommend the Unlimited £35 a month plan, which is for 12 months.
If you need a longer plan, then you'll probably get an even better deal. Remember the golden rule when it comes to SIM Only: The longer the plan, the more allowance you get. Compare all our 12 month SIM plans here.
Do I need to pass a Credit Check for giffgaff SIM only?
No. Giffgaff SIM only plans do not require a credit check. With a SIM only deal (goodybag) from Giffgaff, you don't need to worry about failing a credit check - but check out our full list of deals for those with bad credit.
You can even get the latest smartphone at a great price, and they don't charge you a penny up front. You can even buy a giffgaff goodybag, which has (up to) unlimited data, calls, and texts.
Be aware that if you upgrade to a regular giffgaff monthly plan, you will need to pass a credit check. The checks are done by a company called Ratesetter.
giffgaff SIM Deals: SIM Card Sizes
giffgaff UK SIM card deals and offers are available in a variety of plans, and they mostly come as SIM-only deals.
Giffgaff, of course, also sell new and refurbished phones.There are 11 different SIM-only plans available, including unlimited minutes, unlimited texts, and now also 5G plans.
So if you are interested in giffgaff, you'll want to know what SIM Card sizes they have. Thankfully, they have a "triple" SIM with every order. This means that it's pretty much guaranteed to fit your smartphone or device. Tripel means that there are three SIM card sizes available that might fit your phone - also known as an e-Sim, you also get a micro SIM and a mini and nano SIM. This is pretty standard nowadays and most networks provide the same size SIM cards. Giffgaff has more details here.
Do Giffgaff SIM only deals lock you in?
Unlike most other UK network providers, a Giffgaff SIM card deal won't lock you into a contract as their plans are all rolling 1 month ones. You can cancel at any time, as all their contracts are 30 days, similar to the 30 day plans offered by VOXI.
In other words, you can switch to another network at any time. However, giffgaff SIM plans are more affordable than their rival networks so make sure you know what you're doing :)
You can switch between goodybag deals and unlimited data plans, depending on your needs, at any time, so there's no much reason to leave. Now that they have 5G it's a no-brainer.
What network does giffgaff use?
The UK has "big four" networks, and they lease their network out to smaller ones - like Giffgaff.
These are known as Mobile Virtual Network Operators or MVNOs. This is where giffgaff sits, among the MVNOs. This means that they don't have their own network, they piggyback off of the O2 network.
Given that giffgaff is using the o2 network, read our O2 Network Coverage review.
So if you want to check coverage, you can either check the giffgaff page, or the O2 network check page. They're the same!
Giffgaff Roaming explained
One benefit of giffgaff SIM-only is that you can use it in 37 countries worldwide. The SIM card works with all popular phone networks in the UK, including some very well known networks such as Vodafone - read our Vodafone review.
O2 has coverageof over 90% of the UK population. It also has 5G coverage in most towns and cities. Despite these differences, giffgaff is an excellent choice for those who want to save money and stay connected on the go.
Is giffgaff legit?
Giffgaff SIMs are available in a variety of sizes and have decent data plans. While Giffgaff uses the O2 network, you can choose any of the other four major networks for your SIM card. Giffgaff has a good reputation and has 4.2 out of 5 stars on Trustpilot.
The company also offers free international delivery of its SIM cards, so if you are overseas currently, they will likely ship a SIM Card to you, even if you're outside the UK.
In addition to their three SIM card sizes, Giffgaff also offers a phone loan service. This is similar to an Airfix model: you can buy a Micro-size SIM card and swap it with a Nano-SIM to get the best service for your money. However, you should be aware that you don't need to request a PAC code for a 'Trio-SIM' SIM card.
Transferring to a giffgaff: A guide
To transfer your current mobile number to giffgaff UK, you will need a PAC code. To get a PAC code, you can use the giffgaff website or text giffgaff the PAC code via SMS. Once you receive the code, you can then activate your new SIM card and keep using it for up to 30 days. The PAC code is a security measure that all networks must adhere to, so you must be sure it is genuine.
Using a PAC code will prevent you from being charged an extra charge when you cancel your existing service. These codes are valid for 30 days and can only be used once. If you don't use your giffgaff UK SIM card within this time, you'll need to request a new one. After you've received your giffgaff UK SIM card, you can activate it by calling the number below. The PAC code should begin with GGF and be 9 digits long.
Once you've registered, you can check if your number is ported to giffgaff UK. You can also check whether your number is still active on giffgaff's network by entering your PAC code in the text field. You can also see what other giffgaff UK customers have to say about the process. Using a giffgaff UK SIM card PAC code can save you a lot of time and aggravation.
What are Giffgaff goodybags?
A giffgaff Goodybag is essentially just a SIM plan. It comes with unlimited texts, unlimited minutes, and usually with unlimited data. Each plan is different so check the Goobybag smallprint first.
You can also use it in the EU for free. Here's the map showing where: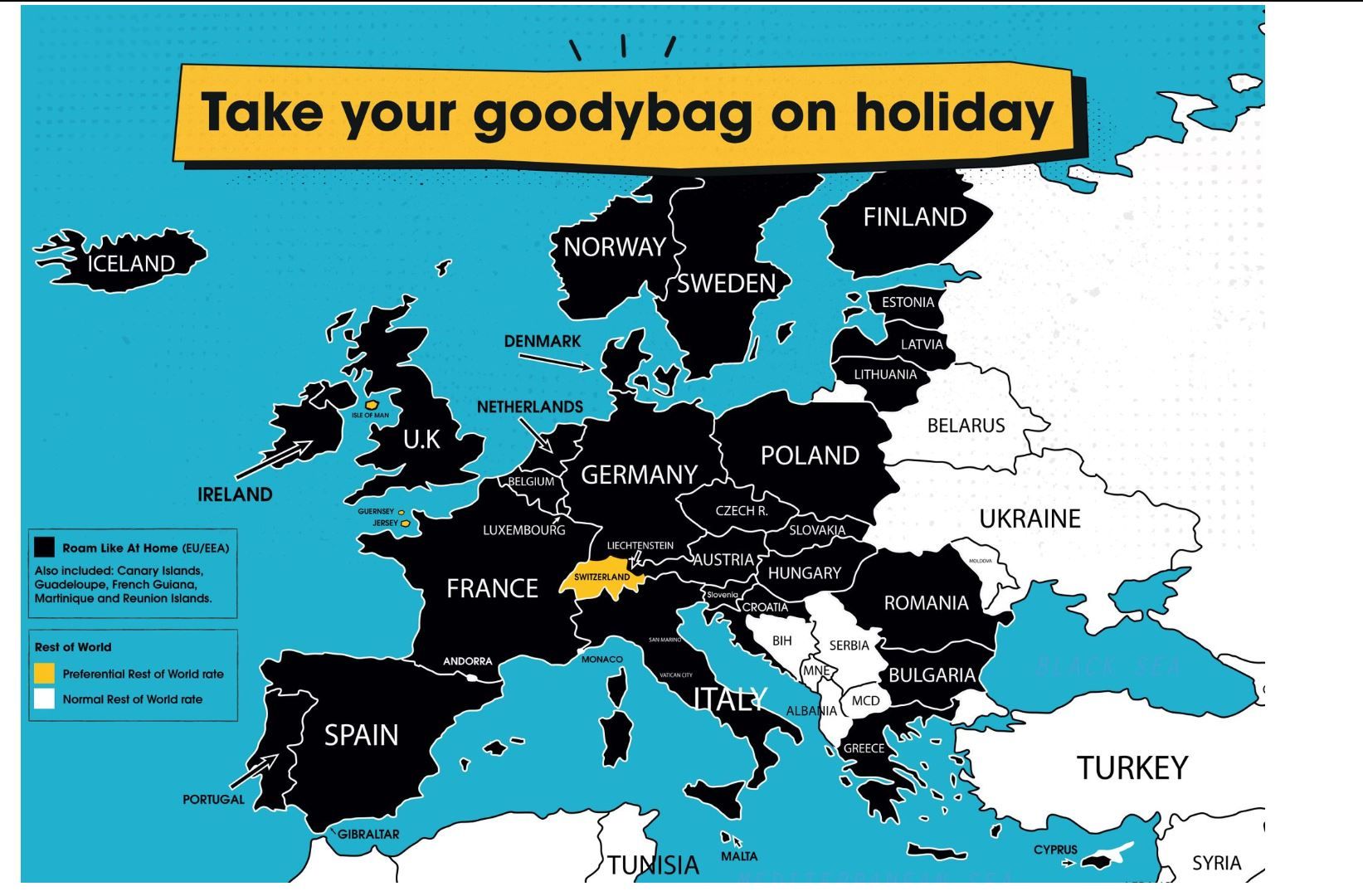 The cheapest 'goodybag' SIM card from giffgaff will cost you £16 per month - fairly good value.
There are many advantages to choosing a prepaid SIM card from giffgaff, not only their Goodybags. The main benefits include: unlimited UK calls and texts, and no minimum contract.
Note that on Goodybags, good old fashioned MMS / picture messages will be charged at a higher rate, so you should only use data-based applications to send photos. Customers have the best online experience with giffgaff.
In regards to customer support, Giffgaff famously has a very helpful customer forum in the UK, and customers are encouraged to help each other if they have a problem. But you can also contact giffgaff via the information here, including Livechat.
What about unlimited SIM Only plans?
If you're looking for an unlimited data plan, giffgaff SIM cards can be a good choice. There are different tiers of data available, from 3GB to unlimited. These plans use the O2 network and include unlimited calls, texts and data in the UK. The only downside to giffgaff UK SIM card prices is that you can't cancel your contract early and your phone will remain active for 6 months after your first usage.
Giffgaff UK SIM card prices are also important for long-term residents of the UK. They offer a triple SIM card, which contains all three available sizes. The three sizes help you choose the right one for your needs. Compare the different sizes against your current SIM card to see which one will work best for you. If you're planning to use your mobile for international calls, a prepaid SIM card may be the better option.
Can I get giffgaff where I live?
To use your Giffgaff UK SIM only deal started, simply place an order through the company's official website. You will not be charged until you receive the SIM card. You can also get a bonus of £5 extra credit if you buy your card before 5.00pm.
Once you receive your SIM, you can use it to make calls, send text messages, or use other online services. It is one of the best products to be launched in the UK.
TIP: Compare the best prices on all UK SIM deals here.
The giffgaff UK SIM card can be delivered to any destination in the world without the need for a UK bank account. It is compatible with 37 countries in Europe, which means that you can enjoy the freedom of roaming in another country.
The UK is home to four main mobile phone providers, EE, O2, Three, and Vodafone. EE and Three each offer coverage to 99% of the population. O2 and Vodafone have 4G (LTE) technology and 5G coverage to major towns and cities.
What other networks should I consider?
The main drawback with giffgaff is that it runs on O2 and if you are not in an O2 area, i.e. if you live in a rural location, you may struggle with the network.
A good alternative is a SIM plan by Three, or consider also Smarty SIMs from just £6 a month. They both offer unlimited plans and 5G, but are on different networks to O2/giffgaff.
As always, check the coverage where you live first, then decide which network has the best coverage, and go from there.
Cheap giffgaff SIM-Only Deals: Overview
giffgaff Tariff Features
🔥 No. of Good Reviews for giffgaff
323+
🔥 Average giffgaff Tariff
£12 a month
🔥 Avg. Contract Term
4 months
🔥 Typical Data Allowance
17 GB
🔥 Number of Unlimited SIM Plans
5
🔥 giffgaff Credit Check
Not needed
🔥 Accepts UK Customers
Yes
In trying to locate SIM Only deals for a range of networks in the UK, not just giffgaff, we've weighed up the pros and cons of each one. If you're still unsure if giffgaff is right for you then check our summary below of today's best SIM deals for giffgaff. If you still need help, then we suggest to read our FAQS for giffgaff SIM deals below, or you can always get in touch with the SIMOnly.Deals team on socials.
FAQs for giffgaff SIM deals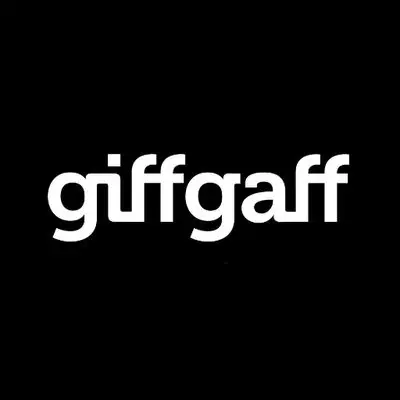 What is the best SIM Only plan for giffgaff?
Currently the best giffgaff SIM-only plan costs £10 giving you unlimited minutes, unlimited texts and of course unlimited data. With giffgaff you can also set a price cap.
Can I get 5G data with giffgaff?
It depends, 5G SIM deals on giffgaff are really popular so make sure you get enough 5G data to cover your needs.
How much can I save with giffgaff 30 day SIM only?
It of course depends on what phone you would have bought. But with a giffgaff SIM Only plan or contract over 30 day, you can of course cancel any time and switch. You are not tied in with giffgaff 30 day deals.