Reasons to choose a SIM Deal for SMARTY:
Choosing the right SIM Only deal from SMARTY can get complicated. There are many things to consider, such as data allowance, number of minutes, number of texts and of course how long the contract lasts.
Thankfully, SMARTY set out to make this entire process a lot simpler: their plans are all 30-days, and several of them feature completely unlimited calls, texts & data. The Smarty fully unlimited plan costs £18 a month.
In terms of where to start, you should choose a plan that, most importantly, fits your budget. The SMARTY website has all of their SIM plans listed, as well as information on how to find the right plan for you.
You can also use this article I've written to compare plans from the SMARTY network. So, read on to find the best SMARTY SIM Only Deals and offers for your own needs.
Which SMARTY SIM Only plan is cheapest?
If you want a SIM-only plan that doesn't break the bank, you can probably find one with SMARTY.
For example, you can get a 4GB data plan for £6 with unlimited UK calls and texts. Note that, you can also sign up for a similar data-only SIM-only deal with Three, who power the SMARTY network.
Is 4GB going to be enough for you? There's an easy way to tell: look at your past usage. If you've got an iPhone or iPad then there are instructions here on how to check historic data usage.
Once you have this information, you'll be able to find the perfect plan for you. Most people get much more data than they need and don't use it - so save a bit of money and do this quick 30 second check!
This company also offers simple and cheap Pay As You Go plans. Smarty also offers a 50GB data plan for £10.
Is SIM Only always cheaper?
If you want to save money on your household costs, then switching to SIM Only does seem a great way to do so.
Cconsider the cheapest SIM-only plan for £5 a month from SMARTY, although it isn't exactly feature rich, it should suit most people's basic needs.

SMARTY offers several different options when it comes to data plans, too. Some of them have unlimited data, while others offer caps. The most popular SMARTY SIM Only plan is coincidentally one of the best deals available across the UK, too. It has unlimited texts and calls for £16 a month. This price is also much cheaper than other big-data SIM plans from the likes of Vodafone etc.
You can also keep the overall cost of the SIM plan low by opting for a rolling contract, which means you can cancel at any time. But be aware it's generally cheaper overall (if you plan to stay), to lock in for 12 months.
Do SMARTY do the cheapest SIM plans?
SMARTY claims to have the cheapest SIM-only plans in the UK, pound for pound. Here's the summary:
SMARTY's £5 SIM-only plan gives you 2GB of data, while the £9-only plan has 15GB and 40GB data.
The £17 and £20 SIM data-only plans are also unlimited.
You can sign up for any of these plans without any credit checks and get money back for the unused data.
If however you're looking for a SIM-only plan with a bit more data, there's a 50GB data plan from SMARTY.
You can get this SIM-only plan for £20 a month, and don't forget it's half price for the first 6 months (sadly, there's always a catch!).
But regardless, the data allowance is greater than the usual amount given at this price - 30GB - which makes this plan a good choice for heavy data users.
And since SMARTY use multi-SIMs, this and all their deals are compatible with all devices, i.e. you can also use it in a tablet or any other device that has a SIM slot.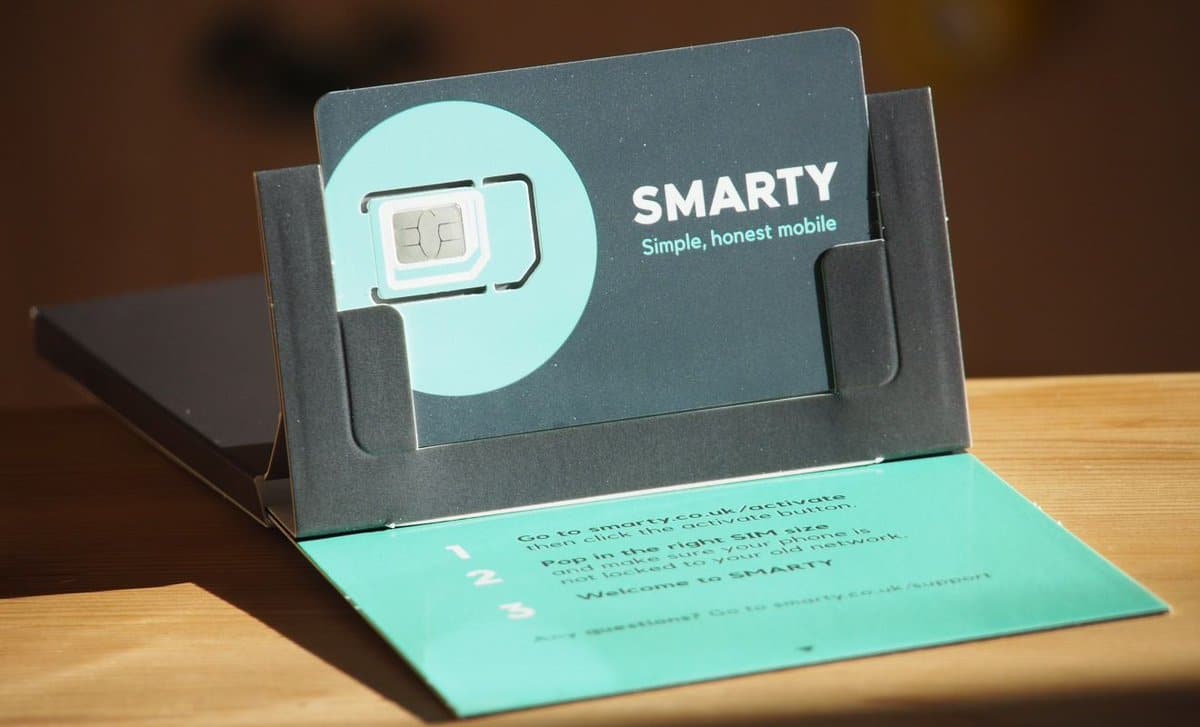 SMARTY SIM Only: Best Data Deals (Update)
12GB data for £7 a month!? Yes, that's right. It's a current promotion that SMARTY are doing, so check their website to make sure it's still a valid deal. If it is, then simonly.deals recommends you go for it.
This is our top pick, as it's affordable and 12GB of data is plenty for mid-level users.
If you're on a tighter budget, then there is also the £6 a month deal (30 day rolling contract) but this has only 4GB of data. For an extra £1 a month, you can get an extra 8Gb of data.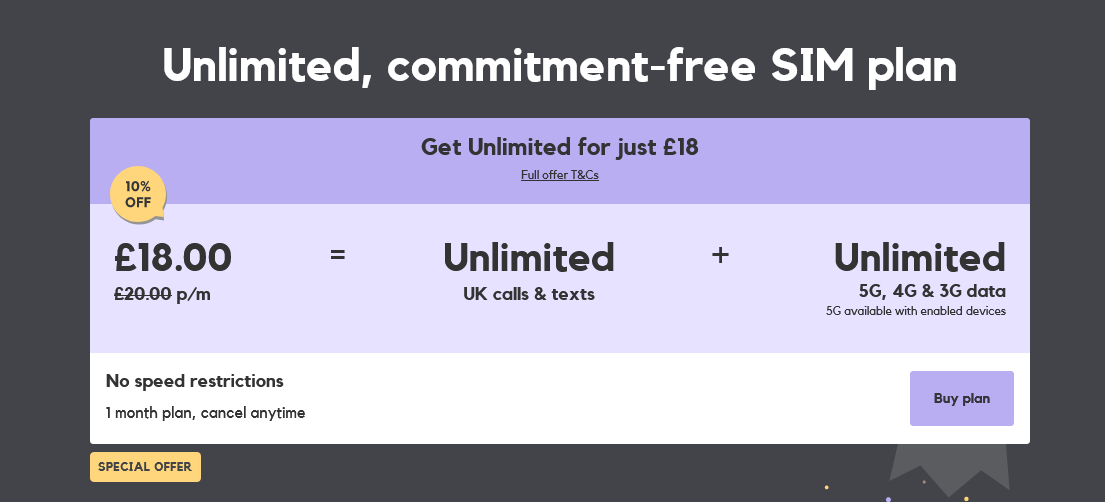 Will SMARTY work in my area?
SMARTY is a mobile virtual network (MVNO) in the UK that uses Three network's infrastructure. The company is known for its super-affordable SIM Only deals, which run for 30 days and include a range of data allowances.
Does SMARTY do credit checks?
SMARTY has confirmed to us that it does not carry out credit checks for 30 day or rolling contract. So as long as there is no a no minimum contract duration, then those with poor credit history should be okay to go ahead.
What about SMARTY's Unlimited Data plans?
The demand for data continues to rise, and many people are always looking for ways to stay connected while avoiding excessive data costs. That's where SMARTY comes in, offering unlimited data SIM only deals that provide a convenient and cost-effective option for those who use their phone frequently.
Frankly, SMARTY's main selling point is their unlimited data SIM only deals, which provide an unlimited amount of data, texts, and minutes at an affordable price. This makes SMARTY a popular choice for those who use their phone regularly and require a lot of data.
One of the key benefits of SMARTY's unlimited data SIM only deals is their simplicity. Customers can sign up online and start using their phone without the hassle of a lengthy contract or the need for a credit check. This makes it easy for anyone to switch to SMARTY and start using their unlimited data plan.
What do I need to know about SMARTY's data pricing?
Another benefit of SMARTY's unlimited data SIM only deals is their affordability.
The company offers plans starting from just £10 per month, making it one of the most affordable options for unlimited data in the UK. This is especially important for those who want to avoid high mobile phone bills and want a cost-effective option.
SMARTY's unlimited data plans also provide a flexible option for users. Customers can choose between different plans that offer different amounts of minutes and texts, so they can find the perfect plan to suit their needs.
This means that users can choose the plan that provides the right balance of data, minutes, and texts to suit their usage patterns. If you're a heavy data user, then consider a Data-Only SIM deal.
SMARTY's unlimited data SIM only deals are a convenient and cost-effective option for those who use their phone frequently. The company's affordable plans, flexible options, and straightforward sign-up process make it a popular choice for those who want to stay connected - without breaking the bank.
Can I roam with a SMARTY SIM Only deal?
All of SMARTY's deals also come with unlimited roaming within the EU, which is a huge benefit compared to the major networks that charge you for this.
And don't forget that SMARTY's unlimited data plans are among the most flexible and affordable plans available in the UK. SMARTY customers can use the unlimited data plan in phones, tablets and mobile broadband devices.
It doesn't require a contract or have any overly ridiculous fair usage restrictions, so it's a great option for anyone looking for unlimited data in a UK SIM Only deal. The best thing about this unlimited data plan is that it is almost always the cheapest deal for a one-month contract.
With unlimited data on Smarty SIM Only deals, you won't be limited to just one device. You can use it on any device that supports 4G. Plus, you can use unlimited data in the UK and overseas (see below). Plus, the UK has no speed caps on Smarty plans, so you won't have to worry about exceeding the allotted data. And if you're a frequent traveller, this plan is perfect for you!
About SMARTY's calls & text allowances
SMARTY offers different plans with varying allowances for calls and texts, so users can choose the plan that best suits their needs.
SMARTY's plans typically include unlimited texts, but the allowance for calls varies depending on the plan. For example, some plans may offer 500 minutes of calls per month, while others may offer unlimited calls/minutes. This means that users can choose the plan that provides the right balance of calls and texts to suit their usage patterns.
It's important to note that SMARTY's minutes are designed for UK use only, and calls and texts to international numbers or premium rate numbers may incur additional charges.
Is the SMARTY network reliable?
The network is fairly large and covers 99.8% of the UK population, but check local coverage.
Most SMARTY customers appear to be happy with their network provider, as SMARTY are rated 4.1 out of 5 on Trustpilot. For the most up-to-date information on network coverage and blackspots, read our SMARTY review here.
What about tethering?
You can use tethering to spread your data usage across multiple devices and use your phone as a personal hotspot. With SMARTY, these are 30 day rolling contracts but they also have several 12 month (1 year) plans, which are much better value, but you are tied in for a year of course.
And,as it's a 12 month contract, you may need to go through a credit check. If you're seriously concerned about budgeting, always go for the 30-day plans.
SMARTY SIM Only Coverage Review
Everyone knows that networks list their coverage of the UK on their websites - and SMARTY is no exception, you can see their coverage map here.
But how accurate are these?
Speaking from experience, I used to use Three. When I lived in London, it was great. You could always get a connection, even in the bathroom. But since moving out of London and into the sticks, things have got a lot worse. I had to stand on my patio to get a signal, not ideal at all. And this is despite Smarty/Three claiming that my postcode has "Great" coverage!
In the end, I compared the coverage maps for different networks and switched to Plusnet sim only. But be aware, if you need 5G, they don't do that yet. You'll need to go with BT Mobile SIM-Only 5G from the EE network (or EE themselves).
What else should I know about SMARTY?
Whether you're in the UK or abroad, you can enjoy unlimited calls and texts with a SMARTY plan. Calls and texts are free within the UK and EU, and you'll never go over your allowance.
There's no roaming fee or hidden charges. SMARTY's plans also offer free EU roaming - this means you can make calls to your friends and family wherever you are on holiday or visiting the EU.
The Smarty UK network is one of the most reliable in the UK, with 97% coverage. It is also compatible with all smartphones, from the latest Apple iPhone to the Samsung Galaxy "S" phone... but the allowances on SMARTY UK SIM Only plans vary depending on what you use your phone for. The plan is flexible, so you can cancel at any time if you want. It also includes free roaming in more than thirty countries.
How do I roam with SMARTY SIM Only?
What about roaming, you ask? Thankfully, that's easy too.
The roaming plans are simple and affordable, and what's more, . Smarty UK SIM Only data discount plans are available in countries like Austria, Belgium, Bulgaria, Comoros & Mayotte, Czech Republic, Slovakia, and Spain.
When outside the UK, you'll use a different local network. But the network coverage of SMARTY is quite extensive within the UK too, reaching a supposed 99% of the population. Its 5G network is not the largest in the market, but it is growing fast. SMARTY users are able to use their normal allowance abroad, provided they stick to the fair usage policy - which is around an extra 12GB per month.
Customers outside of the EU (that's us now!) are required to pay roaming rates, which can be expensive - thankfully, SMARTY provide an easy-to-use page to look up costs in all countries.
Overall, then, there are a number of other ways to save money on your data usage, but SMARTY is a great option for those who need unlimited data or roaming and don't want lots of additional add-ons.
Cheap SMARTY SIM-Only Deals: Overview
SMARTY Tariff Features
🔥 No. of Good Reviews for SMARTY
341+
🔥 Average SMARTY Tariff
£10 a month
🔥 Avg. Contract Term
3 months
🔥 Typical Data Allowance
25 GB
🔥 Number of Unlimited SIM Plans
4
🔥 SMARTY Credit Check
Not needed
🔥 Accepts UK Customers
Yes
In trying to locate SIM Only deals for a range of networks in the UK, not just SMARTY, we've weighed up the pros and cons of each one. If you're still unsure if SMARTY is right for you then check our summary below of today's best SIM deals for SMARTY. If you still need help, then we suggest to read our FAQS for SMARTY SIM deals below, or you can always get in touch with the SIMOnly.Deals team on socials.
FAQs for SMARTY SIM deals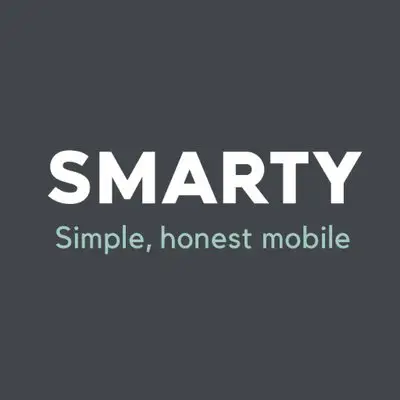 What is the best SIM Only plan for SMARTY?
Currently the best SMARTY SIM-only plan costs £10 giving you unlimited minutes, unlimited texts and of course unlimited data. With SMARTY you can also set a price cap.
Can I get 5G data with SMARTY?
It depends, 5G SIM deals on SMARTY are really popular so make sure you get enough 5G data to cover your needs.
How much can I save with SMARTY 30 day SIM only?
It of course depends on what phone you would have bought. But with a SMARTY SIM Only plan or contract over 30 day, you can of course cancel any time and switch. You are not tied in with SMARTY 30 day deals.