O2 Review &amp Coverage – Is O2 any good in 2023?
This O2 UK mobile network review and coverage comparison is based on their cellular coverage in the UK. It Later in the review we also include information on their Bolt-Ons and Priority plans.
If you just want to compare O2 SIM Only deals, then click here.
The O2 network is a good choice for those looking for a cheap and reliable mobile phone plan. However, if you are considering an upgrade, you need to know more about the carrier's coverage before you decide if it's right for you. O2 has relatively good customer service and has recently received high ratings from Ofcom on customer satisfaction.
Read on to discover our full O2 network coverage review.
O2 Priority explained: What is it?
In our O2 mobile network review, we will look at the coverage of the UK's largest 4G network. This network is widely regarded as one of the best in the UK. In fact, it's so good that other mobile networks pay to be part of it. - such as Sky Mobile and giffgaff.
However, O2's coverage in some rural areas can be poor. O2's postcode checker here will help you find out whether your area is covered. The coverage is very good across the UK as a whole, although some more rural areas may experience lower signal strength.
O2 Review: What plan is best?
O2 has a range of different plans, including a family plan (now renamed Multisave). You can also add more than one plan to a single account. In fact, you can add up to 20 devices to one account. O2 also offers 20% off the airtime portion of any extra devices or SIMs.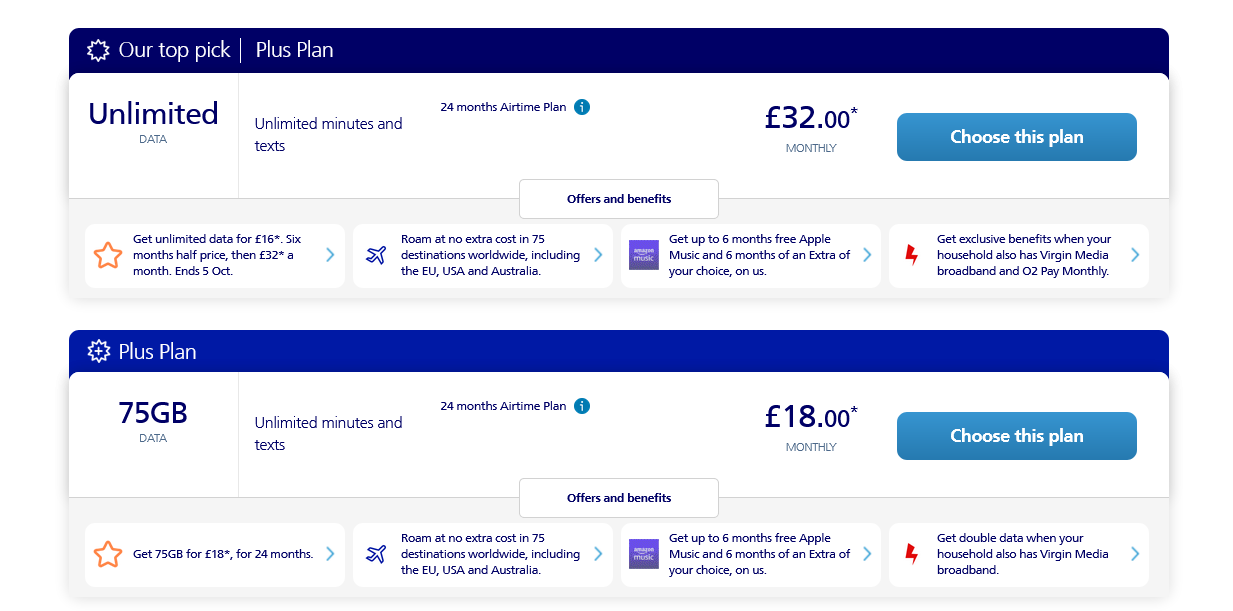 O2 Review: Their Fair Usage Policy
Like all networks, "unlimited" doesn't actually mean truly unlimited. It means that there is a very high cap, to prevent abuse, and O2 are no different - they have a fair usage policy of 650GB per month and 11 tethered devices. As a result, it is important to understand that this plan is not for everyone.
If you want to get unlimited data then compare all Unlimited Data SIM Only plans.
O2 offers several flexible plans, with SIM contracts ranging from 1 to 36 months. Customers can choose the amount of data they want and pay as they go.
The O2 Pay As You Go plan includes data and minutes and a small amount of data for free. Over and above that, the cost of the data is variable, but the amount can be adjusted to suit your budget. And tethering is possible with many of these plans. A quick review of O2's coverage and prices can help you decide if the O2 service is the right one for you.
If you want to compare Pay As You Go SIMs then read this first.
O2's 5G network now LIVE
The rollout of 5G in the UK has been an absolute revelation for mobile service providers, and O2 is among them.
The company has invested heavily in its network, and its 5G coverage is now available in over 150 cities. As a cellular network, 5G offers many benefits, and the company is keen to make it the best in the country.
They are facing stiff competition from the other "Big Four" networks - namely, Three who have the fastest 5G network with the best spectrum range.
O2 also offers a huge range of flexible plans and bundles, ranging from entertainment subscriptions to data rollove (more details below).
Given the 2020 ban on Huawei gear, the UK's largest telecommunications operator remains committed to using 5G equipment made by Nokia and Ericsson. Their network is partly powered by Huawei but it is being replaced.
Tip: Compare ALL SIM only Deals in the UK on this page.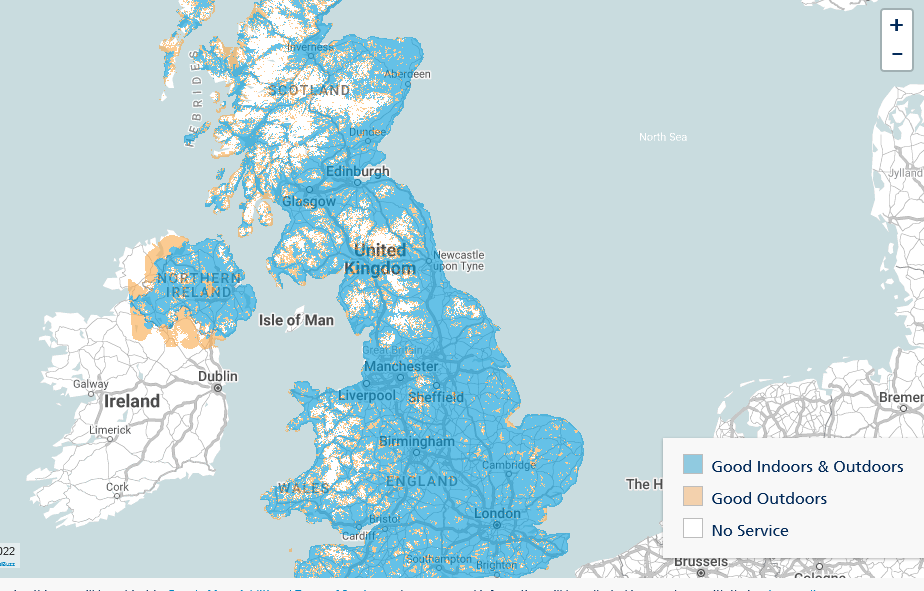 O2 Network Speeds: The Results
While O2 is now the UK's biggest mobile network by subscribers, its speed results aren't great. In fact, O2's 4G speed is still lagging behind the competition.
In comparison, EE is faster than O2, with twice the speed and also a lower latency than Three and Vodafone too. Note that the speed and latency results are for September 2021, and combine all network types, so the results may be a bit different now. While there are some advantages, O2 still falls short of the top three UK networks when you consider speed alone.
However, that is 4G. Let's talka bout 5G.
O2's 5G network is proving to be one of the fastest in the UK. According to Opensignal, O2 will reach avg 100Mbps of download speeds by September 2021. That is incredibly fast for a 5G network, and it's a good enough speed to stream several 4K videos at once. The company claims that a speed of 9.3Mbps is good enough to stream on YouTube, Facebook Gaming and Twitch without any issues, so they are way above that.
About O2's Unlimited Data
O2's various SIM-only plans offer a variety of benefits.
All types of plans offer unlimited calls, texts, and data, and come with tethering features. Pay Monthly plans also allow you to edit your contract to get unlimited data. You can also use a MiFi device to keep your phone tethered to your computer.
The good news is that these SIM-only plans can be changed mid-contract to a different plan if you find you're not using your phone much.
TIP: Read our Vodafone network review
O2 Review: How Many Devices Can I Use?
O2 offers many different plans that cater to different needs. If you have several people living in the same household, you can get a plan that includes unlimited data for a set amount of money. You can add up to 20 devices and SIMs to a plan.
For every additional device or SIM, you'll receive a 20% discount on airtime. The Pay As You Go option avoids credit checks.
O2 Review: Are there Credit Checks?
To join a SIM Only deal with O2, you will need to do a credit check. This may not be ideal news if you have poor credit or no credit history. In cases like that, we recommend to try a different network - you can compare best bad credit SIM deals here. Perfect if you don't want to go through with a credit check.
A good example of a network that does not require credit checks is Smarty.
O2 is now offering it, but it was in fact a bit slow to do so - they now have Wi-Fi calling. While the service isn't available on all handsets, it does work with some of the latest models of iPhones.
You'll need to install O2's firmware on certain Android devices to enable Wi-Fi calling. It's not ideal for all users, but if you have Wi-Fi access, you can use the service and make free calls. Perfect for those who don't have a good signal or choppy reception where they live.
Review Of O2's Bolt-Ons
O2 is famous for its Bolt Ons.
If you're on a tight budget, then O2's Bolt-Ons are an excellent way to boost your data, texts, or minutes. You can even choose to have a free service for those who have trouble hearing. Each one has different costs and benefits, and can be a great way to boost your mobile data. Here are some of the most popular bolt-ons offered by O2:
The first option is to use your O2 data allowance for free. O2 allows you to take advantage of their free data allowance of 100GB - but this will result in a reduced speed until the next billing cycle.
The bolt-on is available for those who have a Simplicity SIM-only plan with a minimum of a 12-month contract. Occasionally you can get a 30-day deal with the same. Bolt-ons can be used to top up your phone for free, and you can also use it to tether your mobile to another device. However, it is important to note that your bolt-on allowance may be revoked if you've exceeded your data allowance.
What about data capping?
The data rollover for O2's tariffs is capped at 100% of the normal bundle allowance.
In other words if you have a £10 SIM Only bundle, you can rollover up to 14GB per month. However, it's important to remember that you'll lose this data rollover when you change your price plan or leave a gap between bundles.
You can change your plan by calling the automated service on 2202 from an O2 mobile phone, or ordering a free SIM card.
O2 Review: How Much of the UK is covered?
O2's 97% mobile phone coverage is a record for the UK mobile network. The service includes 3G and 4G connections. The company is still rolling out 5G service across the UK, as an ongoing measure, and it will take several years yet. But with more than half of the country now able to get it, it might be time to consider a 5G SIM only deal.
Meanwhile, rivals Vodafone and Three both have almost 97% UK network coverage. However, O2's coverage is not as wide as rivals'. Although O2 does offer a higher data allowance, its coverage in the UK is a bit lagging behind rivals.
O2 Company History
O2 was originally called Viag Interkom, a 50:50 joint venture between BT and the Dutch power supply company Viag. It was a rival to Three and Giffgaff. In September 1997, the two companies entered the German telecommunications market as a rival. In November 1997, the two companies decided to merge. The next year, BT acquired VIAG's share for EUR11.4 billion. In 2003, the company was renamed O2 Netherlands and became a wholly owned subsidiary of KPN.
O2 is currently investing more money in its network, including the deployment of 5G technology.
The company is working to secure contiguous spectrum blocks, which is critical to harnessing the full power of 5G. The company has also rolled out SIM-only unlimited plans for its customers starting at £30 per month. These plans are also available as part of Student and Family plans. There are a variety of other plans for these networks, but O2's 97% coverage in the UK is definitely the best. Find out more about the O2 Student offer here.
About O2's data rollover
When you're using a mobile phone on a Pay As You Go contract, you may be wondering whether O2's data rollover is still relevant to you.
The good news is: Yes.
You can rollover your unused data onto your next month's allowance, but you must buy a new bolt-on data bundle to use the rolled-over data. This scheme is only available to customers who are on a Pay As You Go contract.
O2 Review: Our Conclusion
With O2, data rollover is not unlimited - it is only available on selected Big Bundles, or on Pay As You Go. This data can be carried over for a further 30 days, or even 200% of your monthly allowance. But there are some restrictions: you must use the data within 30 days of rolling it over, or else it will be wasted.
Sadly this means that in some cases, you'll run out of data before the end of your current month.
O2's data rollover policy is similar to that of the other UK networks, such as the data rollover policy of Virgin Media, but with an added cost. Rollover data is stored until you cancel your monthly contract. O2 users can store up to 40GB of data until they cancel their plan. Those on cheaper plans can store up to 20GB of rolled over data, while users on pricier plans can save up to 70GB.
Data rollover aside, O2 is a decent quality network, a worthy contender as one of the "Big Four" networks in the UK.