giffgaff Review &amp Coverage – Is giffgaff any good in 2023?
Our giffgaff mobile network and coverage review highlights the pros and cons - and what you need to avoid. When considering which SIM-Only network to use, giffgaff SIM Only is definitely one to consider further.
We'll also take a look at the Goodybags, Data caps, and Customer support that giffgaff offer. If you're thinking about switching to this network, it's important to know all of the details about the network before you decide on a suitable deal. Hopefully, this page will make your decision much easier. Read on to learn more.
giffgaff Review: Is it cheap?
If you're looking for a mobile network that offers good value, giffgaff is one of the best options. Its tariffs are pay-as-you-go, SIM-only and contract. For the purposes of this review, we are focussing mainly on SIM-Only.
Giffgaff piggybacks off the O2 network - read our review here. O2 provides nationwide coverage across the entire length and breadth of the UK. This means that if you can get decent O2 coverage in your area, then you can probably be safe in the knowledge that giffgaff will work too.
Best plans on giffgaff
Giffgaff offers no-contract plans with flexible data allowances and unlimited minutes. They also offer Goodybags (more on these later) that give customers a generous mix of data and minutes. Moreover, they offer free texts and calls to other members of the giffgaff network. Giffgaff has an active community of members, so if you have any questions, you can ask them.
Giffgaff goodybag reviews
Firstly, what is it? A "goodybag" is a SIM only plan that is packed full of data and comes with unlimited minutes and texts. It lasts for a month - a 30 day rolling SIM only contracts - and can be set to recur automatically.
If you run out of data before the end of the month, you can start your next goodybag early. You can use your goodybag both in the UK and in the EU. They cover most things you might need to use your phone for but there are a few little extras that fall outside your goodybag. For these extras you'll need to buy credit.
Giffgaff offers several goodybag plans, the most popular are the £15 and the £20. Both goodybags offer unlimited calls and texts, and the £8 goodybag offers 3GB of data. Likewise, the £20 golden goodybags offer unlimited calls and texts, but with more data. The goodybags also have unlimited texts and minutes.
If you're confused by the concept of a "goodybag" then don't be: they are just what giffgaff call their plans. Most other networks just call them SIM Only plans!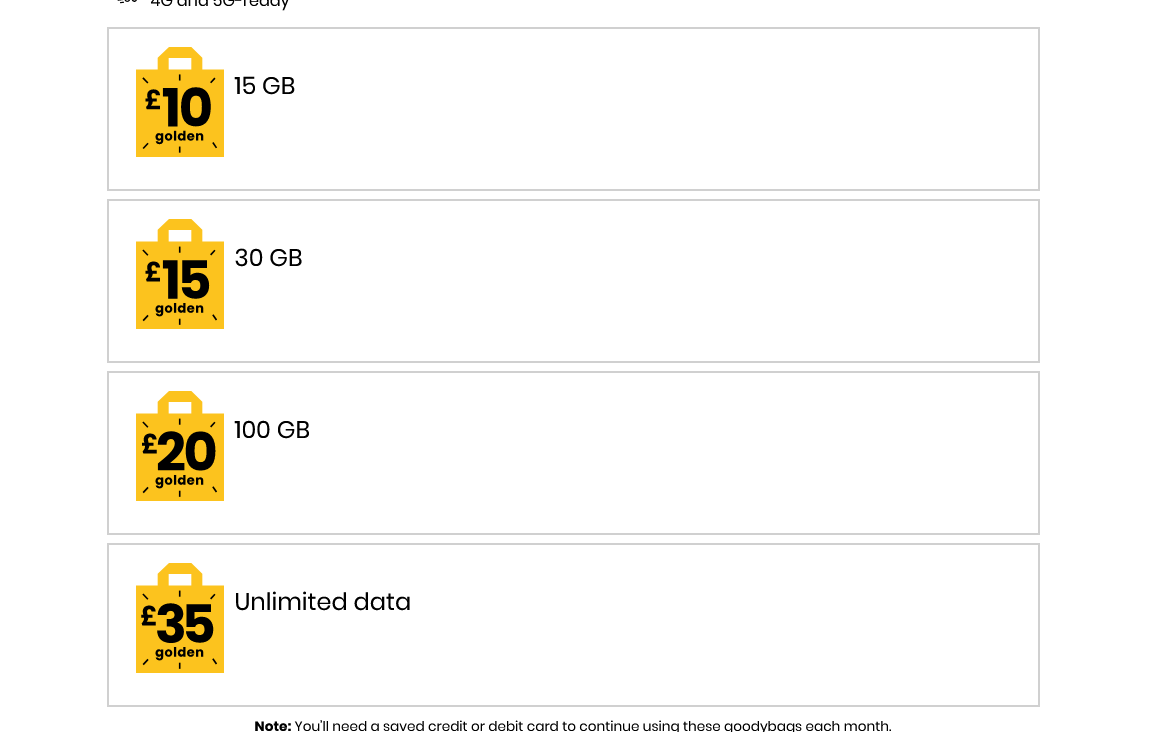 What is Goodybag Payback?
There are several ways to earn giffgaff Payback, and you can donate it to a charity of your choice. One of the easiest ways to get free airtime is to participate in the Giffgaff Labs program. This program offers members a chance to contribute to five different charities. The company also matches members' donations to the charities of their choice. The Giffgaff community has an online community where you can share your ideas, and ask questions. However, it can take several hours before someone responds.
If you're looking for cheap mobile phone plans, you can sign up for a Goodybag on Giffgaff's UK network. The cheapest goodybag is just £6 per month. The second is £8 per month and comes with unlimited calls and texts.
Both of these goodybag plans offer 3GB of data each month. The best goodybag deal comes with a 15GB plan with 5G speed data. Depending on your budget, you can choose between a £10 goodybag or a £10 one.
Giffgaff Review: Data caps explained
The Giffgaff UK mobile network is based on the same platform as O2. Now you may be wondering: why don't I just get an O2 SIM only deal? It's a fair question, but be aware that giffgaff have several advantages to O2.
Data allowances are now available for all 4G plans ranging from +250MB to +3GB. This means that even those with the highest usage can't be limited to a limited amount of data. However, there are some restrictions. If you are planning on using a lot of data, you should be aware of the data caps that may be applied to your plan.
The Giffgaff UK mobile network has no data caps on its SIM Only plans. You can also get up to 80GB of data as a goody bag under "fair use". This plan is also cheaper than the Pay Monthly plans. The SIM Only plans require you to set up auto-renewal, while the Pay Monthly plans require you to pay monthly. The Pay Monthly plan also doesn't come with any data caps, but you can change your allowances as needed each month. The Giffgaff UK mobile network also offers a SIM Only plan, and tethering is available.
Giffgaff Review: Is it fast?
The Giffgaff UK mobile network has four bands of spectrum, and the network works on both 2G and 3G frequencies. While the O2 network has 99% indoor coverage, Giffgaff's coverage varies by location.
In comparison to Vodafone SIM Only, Giffgaff has 4G coverage in thousands of locations, while 3G has been phased out now. These networks are both cheaper than Three, but the coverage is generally poorer in cities.
The best way to find out if O2/giffgaff works in your area, is to use the coverage checker.
Giffgaff Review: What are the negatives?
The biggest downside of the Giffgaff UK mobile network is that you need to take out longer term contracts for the best deals. While you can get unlimited 5G data for free on their Pay Monthly plans, you'll be limited to a total of 20GB of data for monthly usage abroad. However, you can get a 24-month loan and pay for the phone outright. However, this is not available on the Pay As You Go or mobile broadband plans.
Three UK plans are among the best deals in the UK, with unlimited texts, data, and minutes. They also include no data caps, making them perfect for media consumers. The Giffgaff UK mobile network is also incredibly flexible, allowing you to switch between SIM-Only and full-fledged plans as often as you wish, without being tied down by contract. You can even use more than one plan in one month!
TIP: Check our Three SIM only deals & tariffs for the UK.
In addition to their flexible plans, the stipulations of the giffgaff UK mobile network also differ from other UK networks. As a result, you should avoid tethering with more than 12 devices. Also, avoid using more than 650GB of data twice in six months. If you exceed the data cap, you'll be charged 36p per MB in line with the giffgaff terms and conditions. Don't worry though, most "unlimited" network plans have a fair usage clause like this too.
Does GiffGaff customer support care?
If you are looking for a UK mobile network that is both cheap and has a lot of extras, then Giffgaff is the network for you. The Giffgaff network is a virtual network operator (MVNO) which uses the network infrastructure of O2 and is owned by Telefonica. This network offers members a free SIM card and a flexible service bundle. Customer support for Giffgaff UK is excellent - read on to find out more.
Giffgaff Customer Service review
If you're having difficulty with the giffgaff network, you can contact a live representative by phone or online. In many cases, the agent will be able to help you as quickly as possible. If you have a billing question, you can also contact the Giffgaff community. Community help is available 24/7, and will usually answer your question within minutes. However, if you need to contact an agent directly, you can contact O2.
Giffgaff uses the O2 mobile network, so their coverage is the same as O2. You should be able to get decent reception almost anywhere. However, there are some restrictions on the speed and data that can be used. You should also check the coverage and speed of the network in your area before using giffgaff. You will also need to double check that you have enough data before you can use it - consider an unlimited data SIM only plan if you are concernes about data usage.
Is Giffgaff customer support good?
There are some good things about Giffgaff's customer service. If you have any questions, you can visit the Giffgaff website or speak to an agent via phone or online.
The website also offers flexible payment options and a variety of online tools for customers to manage their accounts. Customers can also use their smartphones to access their account information and manage their mobile phone. It is also easy to find contact details on the Giffgaff website.
You can contact customer support for giffgaff UK mobile networking at the e-mail address provided on the website. The e-mail address provided on the website is not the same as the one on the company's website. The Giffgaff UK network also uses remote workers as moderators. These moderators check the community forum and remove content that violates their guidelines. Customers can also find information about mobile contracts, including how to end them.
Customers can also post their queries on the company's forum. They will get a response in 90 seconds on average. The company has a forum where you can discuss any queries you may have about the network. However, if you want to reach a live person, you'll need to have a paid membership. There is no free membership, so you will have to pay for it upfront.
About the giffgaff rewards scheme...
Besides offering excellent customer support, Giffgaff also offers a rewards scheme.
You can earn rewards by answering survey questions, helping people on the community support website, and voting on new ideas. There are also many online forums for you to post your queries. There are several ways to get help for Giffgaff, but the majority of users have to find a way to resolve their problems themselves.