Reasons to choose a SIM Deal for VOXI:
If you're looking for VOXI SIM Only deals, you've come to the right place.
VOXI' SIM plans offer unlimited data, so you can surf the web as much as you want. VOXI also offers coverage in all major cities. So if you're looking for a SIM Only plan to suit you, you'll need to compare VOXI deals to find the best one for your needs.
VOXI SIM Only: For young people only?
VOXI is a SIM only provider that offers a variety of mobile plans, including unlimited data. The company offers a range of different plans, which include data, text, and free minutes. Most of its plans do not have credit checks, and you can change your plan at any time.
However, potential customers should be aware that VOXI's customer service is sometimes questionable. If you're happy with its plans and feel like you won't be using their customer support much, then VOXI is a great choice.
VOXI's Pay As You Go SIM plans are a great choice for people who don't want to commit to a long-term contract. The SIM card will remain active as long as you use it, and you'll only need to pay for it once every 180 days.
However, if you'd rather stick to a fixed-term contract, then you'll need to opt for a longer plan. VOXI's £35 unlimited data plan offers unlimited data and calls. It also offers unlimited texts and picture messages.
Will VOXI's SIM fit my phone?
VOXI's SIM cards come in a variety of sizes, and can be activated by sending a PAC Code (a PAC code is a unique phone number) to 65075. This code will allow you to activate your phone and receive texts and voice calls. After the SIM has been activated, you can submit your request through your VOXI account. The company will then schedule a transfer of your number to your new phone.
VOXI is an MVNO (Mobile Virtual Network Operator) that piggybacks on another network. Because the network belongs to Vodafone, they have a lot of coverage in the UK. Initially, Voxi offered SIM-only plans to customers who were under the age of 30, but this restriction was lifted in April 2019. They now sell to everyone.
Curiously, VOXI also sell phones with a contract (i.e. regular pay monthly), which all include unlimited calls.
What's so great about VOXI SIM deals?
A big perk that VOXI has, that many other providers do not offer, is their SIM Only plans have unlimited social data.
This means you can spend all day scrolling through your social media and not worry about your data usage. If you're social media addict, this is a great option for you.
As long as you have some monthly data left, you're good to go. In addition to unlimited social media, VOXI also allows you to use messaging apps like Facebook Messenger, WhatsApp, and Viber.
VOXI Unlimited Data - as standard
If you're looking for a SIM-only plan with a shedload of data, VOXI is the perfect choice. These plans are great for social media addicts, video game players, and serial streamers.
What's more, their SIM plans don't require a credit check which is perfect if you're inelligible for a regular contract because you don't have the required income. If you're worried you'll fail a credit history check, then VOXI and also SMARTY are one of the better SIM companies to choose.
What network does VOXI use?
VOXI is an MVNO which means it piggybacks on another company's network. In this case, the company uses the Vodafone network, which is renowned for its high-quality coverage.
If you're considering VOXI for a SIM-only plan, you should check out the Vodafone coverage website and find out about their various blackspots, or read our review above.
DoI get unlimited text and calls with VOXI SIM plans?
VOXI SIM Only plans all come with unlimited texts, social media, and calls.
Unlimited data is great for streaming videos. The unlimited data is compatible with most video streaming services, and will never use up your data allowance.
Note that all VOXI plans are valid for 30 days, making them an ideal option for students or college students. Moreover, the plans come with free picture messages or MMS, if you still use those. And because they are unlimited, you'll have the freedom to call as much as you want.
Note that there are some exclusions, see this PDF file on the VOXI website for details.
Do I need a credit check to join VOXI?
No. Unlike many other mobile networks, VOXI plans don't require a credit check.
You can choose to subscribe to one month plans or pay as you go. If you decide to go for a longer subscription, you can switch your plan at any time.
In addition, VOXI has doubled the amount of data included on their £10 plan. If you're looking for a low-cost mobile plan, make sure to check out their plans before 28 July 2022.
Another great thing about VOXI SIMs is that they're 5G-ready. This means that you'll be able to connect to the network of your choice. This means you'll never be locked in a contract with one network. If you're still on the fence, check out our SIM Only guide for more details. These deals are perfect for budget smartphone owners. The company also offers goodybags that offer you freebies when you refer a friend.
What coverage does VOXI have in the UK?
VOXI has 99% coverage and is compatible with the Vodafone network, this is the same for their SIM Only deals and their regular contract deals.
But check their coverage checker map here to be 100% sure.
Note that some people are telling us that the VOXI network coverage is not accurate - check our VOXI coverage review.
With VOXI, you get full access to Vodafone's 3G, 4G, and 5G networks - though 3G is being phased out shortly. The speed of the 4G and 5G networks is variable, but you should be able to get a decent 25Mbps download speed on 5G.
In addition, VOXI has much lower latency than its rivals such as O2. It's easy to use the VOXI service and enjoy the benefits that it provides.
Do VOXI offer discounts?
Sadly, it doesn't seem possible to haggle with VOXI.
But there are a few good reasons to consider VOXI SIM Only as a SIM-only provider. Its generous data allowance is an attractive selling point, but if you only use your phone sporadically, it might not be necessary to purchase a high-data plan. However, if you use your phone for business purposes, a lower data allowance might be more cost-effective.
It's not mandatory to sign up for an unlimited data plan, but some plans allow you to use social media without eating up your data allowance. You can also stream videos with most of the plans. The best thing about Voxi is that they have excellent coverage throughout the UK. There's no way you could run out of data for social media or video streaming. All Voxi plans allow you to use TikTok, Netflix, and Prime Video.
Which VOXI SIM deal is the best value?
VOXI's plans are incredibly flexible, offering a 30-day contract length for most of them.
Our top pickgives you unlimited data and free data for social media and streaming apps. It also covers the same area as Vodafone's network. That means that 99% of the population is covered by 4G.
Other more expensive VOXI SIM plans even come with 5G for free. However, you have to live in a 5G-capable area to take advantage of this feature.
Another reason to choose a SIM only plan from VOXI, or any other provider, is that you won't need to purchase a phone handset.
You can opt to use SIM Only on your tablet or laptop,as they can be used anywhere - not just in a smartphone. SIM Only plans are cheaper than contract-based plans, and you can save up to £330 or more in the long run, on average. You can also add extra SIMs to your existing plan, so you can transfer extra data to the other devices in your family.
Roaming with VOXI (Updated)
VOXI launched in August 2017. They have since dropped the age restriction (under 30) on their packages, so anyone can join. Think of VOXI as like the cool, younger sister of Vodafone. Their deals and offers feature unlimited data, social media, and free video streaming. While they don't have a mobile app, they do have live chat support.
VOXI's SIM only deals and offers are available in the UK and the EU. They include unlimited data and social media usage, as well as unlimited calls and texts. The company's plans are also 5G-ready and come with unlimited data. These plans are typically on rolling 30-day contracts and may include double data for a month. You'll pay a monthly fee of between £10 and £30.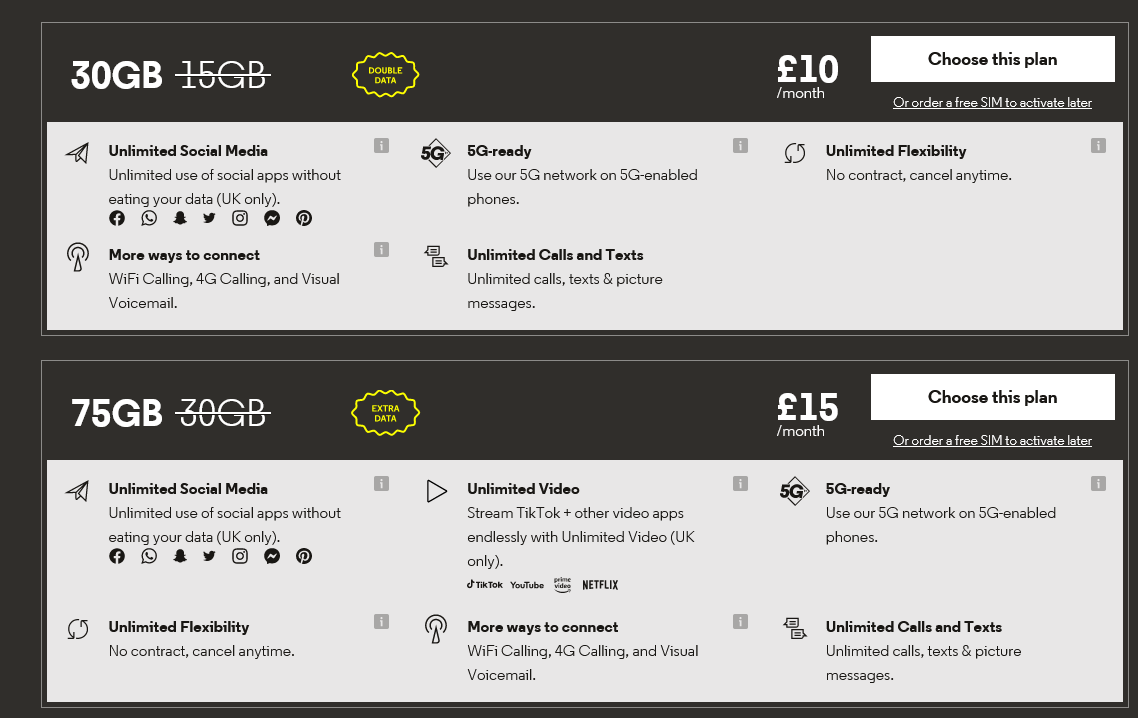 VOXI does not support WiFi calling, so you'll need a good mobile reception to make calls with VOXI.
However, you can get unlimited data for social media and for browsing the internet. The network supports tethering, which is great for getting another device online, but it can also use up your data allowance quickly. The only drawback with VOXI is that you can't use the phone as a TV or laptop.
Conclusion: Should I join VOXI SIM Only?
VOXI's SIM plans offer an entry-level package with unlimited data, for 30 days (rollin).
This recommended SIM plan also includes social media data, messaging data, and WhatsApp, and you get an extra £7 per month for watching Netflix or Amazon Go Video. In addition to free data, you'll also get free calling and texting on social media sites.
The VOXI network is also 5G-ready, which is a big advantage for SIM only users.
If you need unlimited data and use socials a lot, then VOXI is a great choice. But other alternatives to consider, are BT Mobile SIM Only Plans or Smarty SIM offers - they both offer 5G and unlimited data, but for a few quid more per month.
Cheap VOXI SIM-Only Deals: Overview
VOXI Tariff Features
🔥 No. of Good Reviews for VOXI
495+
🔥 Average VOXI Tariff
£10 a month
🔥 Avg. Contract Term
5 months
🔥 Typical Data Allowance
23 GB
🔥 Number of Unlimited SIM Plans
4
🔥 VOXI Credit Check
Not needed
🔥 Accepts UK Customers
Yes
In trying to locate SIM Only deals for a range of networks in the UK, not just VOXI, we've weighed up the pros and cons of each one. If you're still unsure if VOXI is right for you then check our summary below of today's best SIM deals for VOXI. If you still need help, then we suggest to read our FAQS for VOXI SIM deals below, or you can always get in touch with the SIMOnly.Deals team on socials.
FAQs for VOXI SIM deals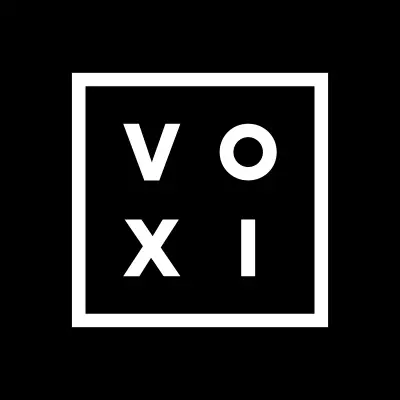 What is the best SIM Only plan for VOXI?
Currently the best VOXI SIM-only plan costs £6.99 giving you unlimited minutes, unlimited texts and of course unlimited data. With VOXI you can also set a price cap.
Can I get 5G data with VOXI?
Yes, 5G SIM deals on VOXI are really popular so make sure you get enough 5G data to cover your needs.
How much can I save with VOXI 12 month SIM only?
It of course depends on what phone you would have bought. But with a VOXI SIM Only plan or contract over 12 month, you can of course cancel any time and switch. You are not tied in with VOXI 30 day deals.