Reasons to choose a SIM Deal for Tesco Mobile:
If you're looking for a SIM Only deal with a good data allowance, you can find a number of proming deals at Tesco. The company, famous for groceries, now offers SIM Only. Specifically, Tesco offers a wide range of handset deals, with contracts ranging from 12 to 24 months as well as SIM Only: you can also opt for a 12 or 18-month contract, or for a 30-day plan. With Tesco, the choices are almost infinite.
That is why they have quickly become one of the leading SIM-only plan providers in the UK.
Also, Tesco Mobile offers 'Anytime Upgrade Flex' deals, which let you upgrade your handset or tariff on a monthly basis. You can also opt for a pay monthly or pay-as-you-go deal, depending on your needs. You can also upgrade to a 5G phone if your handset is compatible with this technology - compare all 5G SIM Only plans here.
Tesco Mobile SIM Only promise - no price rises!
The Tesco Mobile UK SIM Only Tariff promise is a fantastic way to save money on your mobile phone contract. Tesco famously guarantees no price rises during the contract, and there are no extra fees for mid-contract increases. As avid readers will know, SIM-only plans are often subject to mid-contract prices rises, and these can often be quite significant.
Legally, SIM only providers are allowed to put up prices in line with inflation. But not Tesco - they make a big deal out of not increasing prices mid-term, which is great.
Which Tesco Mobile SIM Plans are the best?
The best value SIM Only tariffs on Tesco Mobile are usually on a 12 or even 24 month contract.
We recommend their 12GB 24 month data plan. While it may seem like a lengthy contract, it is worth locking in this great price. 12GB is perfect monthly allowance for medium-level data users.
If you need more data than that, it's probably worth getting an unlimited data plan instead.
What about handsets with Tesco Mobile?
SIM only is perfect for those with a decent, existing phone or tablet. But if you want to upgrade to the latest handset, then this is also possible with Tesco Mobile.
Tesco Mobile offers no interest finance on some of the latest mobile phones. Customers are also entitled to monthly bonuses, free extra minutes and data, and Tesco Clubcard points.
These are extra benefits that make the Tesco Mobile UK SIM Only Tariff so tempting. So what are you waiting for? Take advantage of the Tesco Mobile UK SIM Only Tariff promise today and get the cheapest mobile contract on the market!
What else does Tesco Mobile promise?
if you opt for a SIM-only plan from Tesco Mobile, it has a number of other benefits that other networks do not.
Capped contracts – Tesco Mobile gives you the option of capping your contract so there's no bill shock at the end of the month. You can set the cap at £0 so you'll only ever pay your monthly tariff, or factor in a safety buffer to cover things not covered by your allowance, such as picture messages, calling premium rate numbers or making international calls.
Family Perks – Family perks is a reward scheme open to anyone with two or more Tesco Mobile pay monthly contracts. Each month, you get a 'Family Perk' for every Tesco Mobile contract you have. Perks include up to 1GB of data, up to £2 off your bill and up to 200 Tesco Clubcard points – and you can change your perks each month.
Clubcard points – Tesco Mobile allows you to earn Tesco Clubcard points by paying your mobile bill. You get one point for every pound spent.
Tariff Promise – Tesco Mobile's Tariff Promise is that the price of your tariff won't increase for the length of your contract. This is because Tesco doesn't go in for inflation-based mid-contract price hikes like some other providers.
How do I switch to SIM Only at Tesco?
With its SIM Only Tariff promise, you can switch from your current mobile provider to Tesco Mobile UK easily - the process is simple and fast.
After you register with Tesco Mobile, you will receive a Triple or Tri-SIM, which contains all three sizes of SIM cards. If you're not sure which size you need, you can compare the sizes to your existing SIM card and pop out the one that matches.
Tesco Mobile SIM Data allowances explained
The best deals on Tesco Mobile UK SIM Only are usually those with high data allowances and, of course, low prices. To get them, you'll generally need to go for a 12 month or 24 motnh plan.
Don't fret, Tesco Mobile do offer 30 day rolling contracts. But they are not usually as good value.
Can I tether with Tesco Mobile?
Yes.
You can save up to 50% on the monthly bill with Tesco Mobile SIM Only deals, and you'll have more data to use on your device! Unlike many other networks, Tesco Mobile allows you to tether your phone to use as a WiFi hotspot. You can even tether another device, such as a laptop, tablet, or a gaming console.
In addition to offering unlimited texts, calls, and data, Tesco Mobile also sells a number of handset deals. The SIM Only deals are ideal for those who are content with their phone, and are not in a hurry to upgrade. All of these plans have a data allowance and some come with a safety buffer. In case of data issues, you can always increase your allowance if you run out of data.
If you're a heavy data user, you can upgrade your data allowance with Tesco Mobile UK SIM Only deals.
What network does Tesco Mobile use?
As an MVNO, Tesco Mobile runs on the O2 network, so you won't have to worry about sloppy network coverage - but check the O2 website for coverage maps first.
There are also no contract minimums or one-off payments, so you can easily adjust your allowance to suit your needs.
If you live in a rural location, and find that you don't have decent coverage, you can cancel your SIM Only plan after a certain period - see here for more information.
When it comes to SIM Only plans, it is best to opt for the one with the best data allowance. Consider an unlimited data allowance for the best value-for-money.
Tesco Mobile SIM Only: Roaming
If you're looking for a cheap and flexible SIM Only deal, you can also use Tesco Mobile overseas (roaming). You can use your mobile as usual when abroad, as the phone will automatically connect to the local network and enjoy the same allowances.
For other destinations, you can select monthly handset plans, SIM-only deals, or PAYG. Just be aware that you'll have to pay a daily charge if you don't use your phone for more than two hours a day.
Tesco Mobile SIM Only coverage: is it any good?
O2 is the network that powers the Tesco network, which claims to offer 99% coverage in the UK. Tesco Mobile's network has good coverage, offering 4G and 5G service to its customers.
There are few cons or negatives associated with this provider. Firstly, they don't have a huge range of plans to choose from. Some say that simplicity is best, but often variety is the spice of life. Some other providers such as SMARTY offer many more SIM-only deals.
Tesco Mobile: About Family Perks
You can add up to 5 SIM cards to your account with Tesco Mobile and choose the monthly perk you want. Depending on the contract type, you can get extra data, free calls, extra minutes, discounts on Tesco insurance and more. You can also choose to have your phone topped up by auto-renewing your top-up. You can opt to get these extras on a contract, but not on a PAYG phone plan.
You can sign up to Tesco Mobile's Family Perks scheme, which offers free monthly rewards and money off your phone bill.
Are Tesco SIM Only deals any good?
According to Trustpilot, Tesco Mobile is rated 4.5 out of 5. This is very high - note that it's separate from their ratings for their Groceries and Tesco Direct, so it is accurate.
This network also has very high customer satisfaction ratings, according to Ofcom.
While the network may be less than perfect when it comes to mobile reception, many people have reported being satisfied with their service. This is great news for anyone looking for a family plan at an affordable price.
You can also use Tesco Mobile UK SIM Only Family Perk to get great deals on mobile broadband, calls, and texts. Plus, you can claim 200 additional Clubcard points per month! These points can be used towards shopping, family days out, or even treats. And what's better, these rewards can add up quickly. And there's no limit to how many you can use them!
The Tesco Mobile UK SIM Only Family Perk will increase the overall rating of the network, but you must be aware that it's still not the best option for everyone. The plan doesn't come with unlimited minutes, so you'll need to use data to communicate. However, you can use WiFi in order to avoid using up your data allowance and incurring additional costs. The plan also allows for mobile tethering, so you can keep your device connected no matter where you are.
Which Tesco Mobile plan is best for SIM Only?
At the time of writing, there are around 25 different deals on the Tesco Mobile network for SIM Only. It can be a little daunting to compare the different SIM only plans contracts and terms, your head might be in a spin.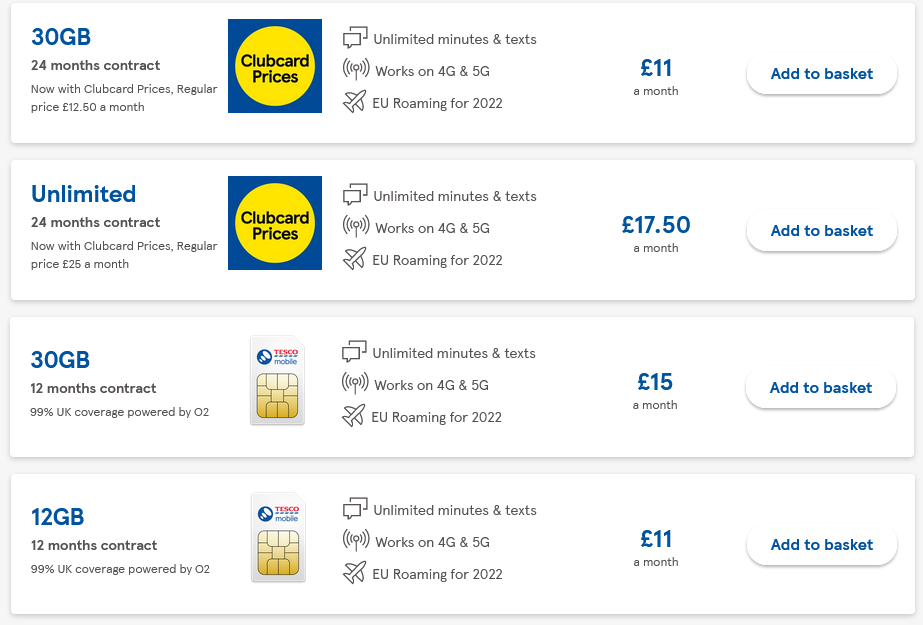 We think the best plans are those that are for 12 months. Most people will buy a new phone every 2-3 years but they will keep their SIM only plan for many years. It isn't always worth going for the shortest-term contract (for example: 30 days). It doesn't represent good value for money in every case.
Tesco Mobile: Phone recycling now available
If you are looking for SIM Only Deals for your next phone, check out Tesco Mobile UK. They sell a range of phones and also offer phone recycling. As part of their environmental pledge, they will take back your old mobile phone for recycling. As well as offering phone recycling, you can get special deals and discounts.
SIM Only contracts from Tesco are great for those who only use their phone occasionally, but not for heavy users. You can get a 12-month plan for less than a tenner a month, and get loads of data (around 10GB). This is more data than most people will use.
If you're a social media user, VOXI are a good alternative to Tesco Mobile. Read more about our VOXI SIM only plans here.
There are also some limited-time deals that can be worth taking advantage of. In general, these SIM only deals will save you money compared to a phone contract. If you are a heavy user, you might want to opt for a phone contract with a high data allowance, or go for a 12 month SIM contract.
The charity benefits are also great. Some phones are too expensive to recycle, and you'll be glad to know that you won't be stuck with a phone that has a high price tag. Phone recycling is a good way to help the planet. Tesco Mobile UK SIM Only Deals are one of the best places to get your old phone recycled. It also helps the environment by supporting charities.
Tesco Mobile SIM Only deals: Conclusion
Tesco Mobile UK has a wide range of SIM-only deals to suit different budgets and usage patterns. Their price promise (no contract price rises mid-term) also mean that the price you see now, is the price you pay for the entire term.
With a flexible contract length and a wide range of data and minutes allowances, Tesco should offer an option to suit every budget. One downside to Tesco Mobile UK SIM Only Deals is the fact that they don't offer unlimited data plans or Pay As You Go tariffs. However, if you do manage to get a good deal with Tesco Mobile, you'll definitely be happy with the service.
Cheap Tesco Mobile SIM-Only Deals: Overview
Tesco Mobile Tariff Features
🔥 No. of Good Reviews for Tesco Mobile
379+
🔥 Average Tesco Mobile Tariff
£13 a month
🔥 Avg. Contract Term
6 months
🔥 Typical Data Allowance
24 GB
🔥 Number of Unlimited SIM Plans
2
🔥 Tesco Mobile Credit Check
Not needed
🔥 Accepts UK Customers
Yes
In trying to locate SIM Only deals for a range of networks in the UK, not just Tesco Mobile, we've weighed up the pros and cons of each one. If you're still unsure if Tesco Mobile is right for you then check our summary below of today's best SIM deals for Tesco Mobile. If you still need help, then we suggest to read our FAQS for Tesco Mobile SIM deals below, or you can always get in touch with the SIMOnly.Deals team on socials.
FAQs for Tesco Mobile SIM deals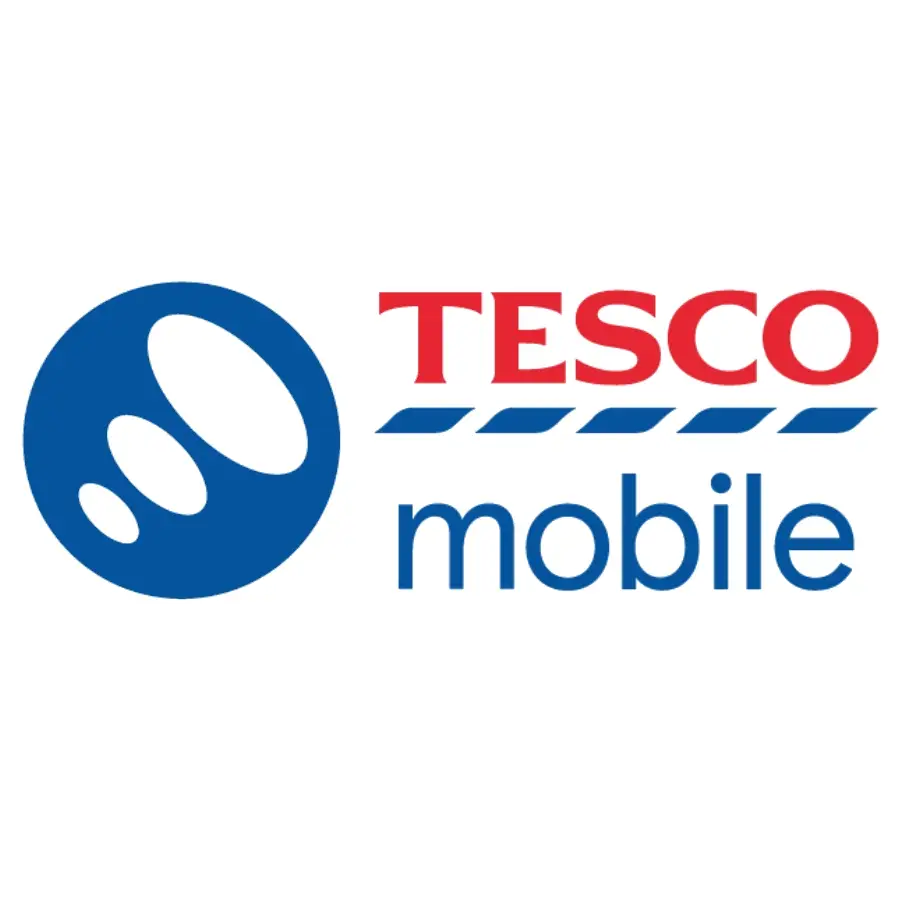 What is the best SIM Only plan for Tesco Mobile?
Currently the best Tesco Mobile SIM-only plan costs £6.99 giving you unlimited minutes, unlimited texts and of course unlimited data. With Tesco Mobile you can also set a price cap.
Can I get 5G data with Tesco Mobile?
Yes, 5G SIM deals on Tesco Mobile are really popular so make sure you get enough 5G data to cover your needs.
How much can I save with Tesco Mobile 12 month SIM only?
It of course depends on what phone you would have bought. But with a Tesco Mobile SIM Only plan or contract over 12 month, you can of course cancel any time and switch. You are not tied in with Tesco Mobile 30 day deals.