Asda Mobile Review &amp Coverage – Is Asda Mobile any good in 2023?
Many people overlook Asda Mobile when looking for a good SIM Only deal. It's a shame because, while they're not that well known, they're a pretty good sub-network for those on a budget. Now that they have 5G plans, they're definitely worthy of your consideration.
Asda Mobile has a good selection of SIM-only bundles, but the network coverage can be a bit hit and miss. It also has a poor customer service record, but the prices are incredibly good value. Read on to find out more about ASDA Mobile's network coverage and plans.
Asda Mobile: Pros & Cons
Asda Mobile is a UK mobile network provider that uses the Vodafone network. There is no monthly contract for ASDA Mobile customers, so there's no commitment to a long contract. If you're looking for a cheap and simple provider, consider Asda Mobile.
Here is our summary:
Cheap, ideal for budget conscious and low-level users
No bells and whistles
Average data bundles
Asda Mobile: Which Network does it use?
Asda has chosen the Vodafone network for its MVNO, which is officially called "Asda Mobile".
This exciting news allows Asda to offer unlimited mobile data plans and, thankfully, 5G SIM only plans too.
Asda will also be able to offer its customers family discounts and Wi-Fi calling options. The new network also offers digital tools for customers, such as analytics and account management. The Asda Mobile network went live in 2020, and is therefore the newest entry into the SIM-only market.
Asda Mobile: Network Coverage
Although the Asda Mobile network piggybacks onto the Vodafone network, the coverage claim is that they cover 99% of the UK population. The Vodafone network has decent enough coverage throughout the UK, which is good for customers who want to enjoy faster data speeds.
Avid readers will know that, when it comes to speed, Vodafone is not the fastest 4G, nor 5G provider. If you want fastest 4G speeds, then go to the EE network.
For 5G, the fastest UK network with the widest spectrum is considered to be Three.
Asda Mobile: Is there Unlimited data?
Yes, but they are considered separate unlimited plans.
As you can see, Asda Mobile cap the speeds that you can download at. If you are a considering Asda Mobile to be able to browse social media without limits, then consider instead a SIM Only bundle from VOXI - they include this with ALL of their plans as standard.
What's more, VOXI are also using the same network (Vodafone) as ASDA.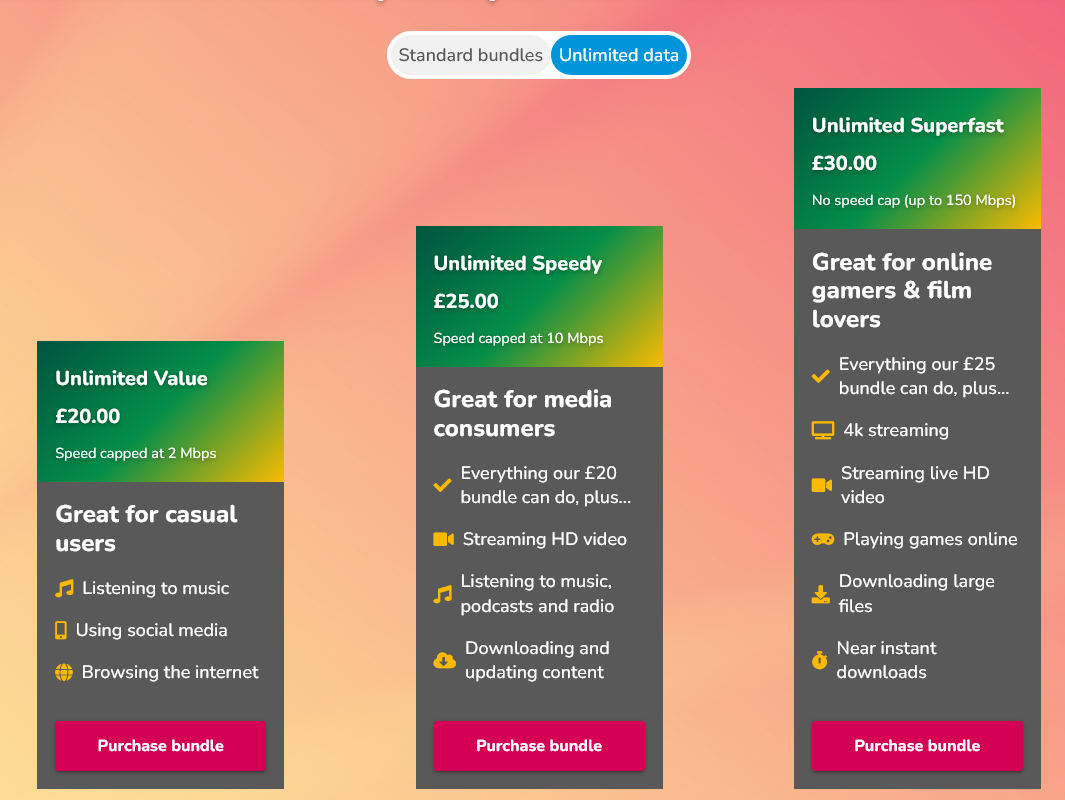 Asda Mobile UK offers several unlimited data plans, which means you can surf without interruption or worry. Note that unlimited is subject to fair use, so make sure to read the Asda Mobile terms and conditions before signing up.
If you aren't sure if you need unlimited data or not, it might be worth opting instead for a 30-day plan with high data allowance - for example, the highest data allowance is currently 100GB a month. That is loads!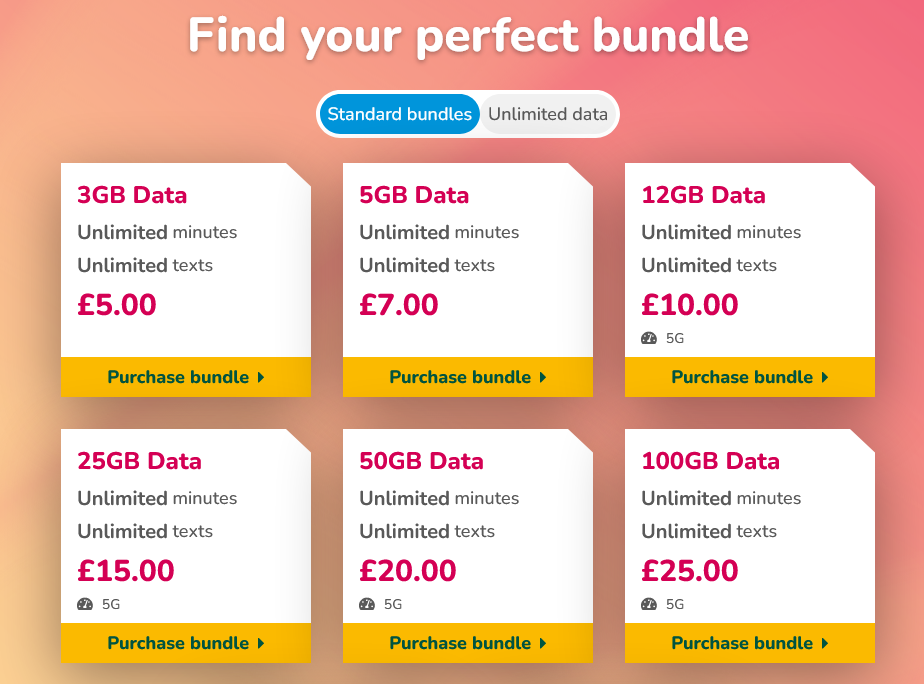 If you need a 5G plan from Asda, then check out the dedicated list of 5G plans here.
Asda Mobile: Is it really that cheap?
If you're considering signing up for a new mobile contract, you may be wondering if ASDA Mobile is the right choice for you. This network does not offer long term monthly contracts - all of the plans are for 30 days (1 month) only.
With Asda Mobile, you can opt for a SIM only deal with data only, or buy a bundle of texts, minutes, and data. Once you've used up your allowance, you can top it up again with additional funds.
How do I sign up for Asda Mobile?
When you sign up with Asda Mobile, you'll be prompted to enter a billing code and confirm your phone number. You'll need to remember this number, or you'll be asked to change it. You must be 18 or older.
You'll also need a credit card or bank account to sign up. However, you don't need to spend a lot of money to sign up with Asda Mobile, as their call rates and data overage charges are quite reasonable - more on that below.
Is there a credit check for Asda Mobile?
No.
As all their plans are 30 day rolling contracts, you don't need to pass a credit check or have a good credit history. If you are looking for SIM plans for those with bad credit, read this.
Asda Mobile Network Speeds Review
If you're looking for a new mobile network, Asda isn't the fastest. As above, that accolade belongs to EE.
And to make matters more confusing, Asda actually limits or "caps" the speed at which you can download something.
There are three options for SIM Only plans: the slowest at 2Mbps, the middle plan at 10Mbps, and "Superfast" at 150Mbps. For those who want unlimited data and texts, you should ideally opt for the 150Mbps speed plan, which is a similar speed to 5G. But be sure to read the terms and conditions before you commit to a plan.
TIP: Read our SMARTY coverage review
ASDA Mobile also offers a free service called Wi-Fi Calling. What is it? Well, Wi-Fi Calling allows you to place calls over Wi-Fi, using your normal number and dialler. This is convenient if you're in an area where there's no mobile network coverage. The caller's experience is usually seamless.
Asda Mobile's network is able to deliver consistent 4G services both indoors and outdoors. Its coverage should be strong, and the network should be able to support the 3600MHz and 4G bands. While the network isn't perfect, you can expect to have fast, consistent service.
Asda Mobile Review: Is Short-term better?
Asda Mobile network has won a number of awards for being one of the cheapest and best SIM only networks in terms of coverage. Its customer service is lacking - but we'll cover that shortly.
One of the most common question we get is, "Should I go for a 30 day or 12 month contract?" The answer is that 30 day is better, because you can use it similar to a short-term trial. However if you are confident that you can get a good signal in your area, then generally 12 month SIM Only plans offer much better value.
Why? Well, because you are 'locked in' and the network knows you won't leave. So they entice you with a good deal.
Asda is not one of those providers because, similar to Sky Mobile's SIM offerings, they do not do 12 month plans. They only do short-term 30 day rolling contract. In addition, Asda has received high marks from Which? Magazine for its customer service and signal coverage.
Asda Mobile Review: Does it have the cheapest plan?
Asda Mobile offers loads of different SIM Only packages, each with its own features and benefits. All of these SIM Only plans have unlimited minutes and texts.
There are speed caps, but they're fairly reasonable. For example, the lowest plan has unlimited texts and minutes, but the fastest bundle also offers 5G speeds.
Asda Mobile offer one of the cheapest SIM only plans around - £5 a month for 3GB of (4G) data.
Sky Mobile claim that they are cheaper, but they use the clever wording of "out of the big networks". Asda is not one of the "big networks", and it is cheaper than Sky Mobile for the cheapest UK plan. I can't find any plan that is cheaper than this - let me know if you can?
Its bundles cost from £5 to £30 per month. Its SIM only plans do not include contracts, which means you can use them on any phone. They're the best choice for those who own an unlocked phone.
Can I use WiFi Calling with Asda Mobile?
Yes.
Wi-Fi Calling and 4G are both available for Asda customers without additional charges. The former provides better coverage by eliminating indoor blackspots. Both services, however, require compatible handsets. Wi-Fi Calling is a good option for people who need a reliable phone network in cities with little or no signal. The latter is known as Voice over LTE, and provides high-quality audio.
Asda Mobile: Lacking customer service
It's hard to find specific figures from Ofcom on the customer satisfaction of Asda Mobile. But a quick look at its customer feedback page on Trustpilot, shows that they are rated 3.4 out of 5, which is average. There are a number of people are happy with Asda Mobile, but many who are not.
This could be down to a few factors: For example, many people have left negative feedback after having a bad experience with the network. But this doesn't mean that Asda Mobile is bad. Asda Mobile's network is far from the only network with poor customer service.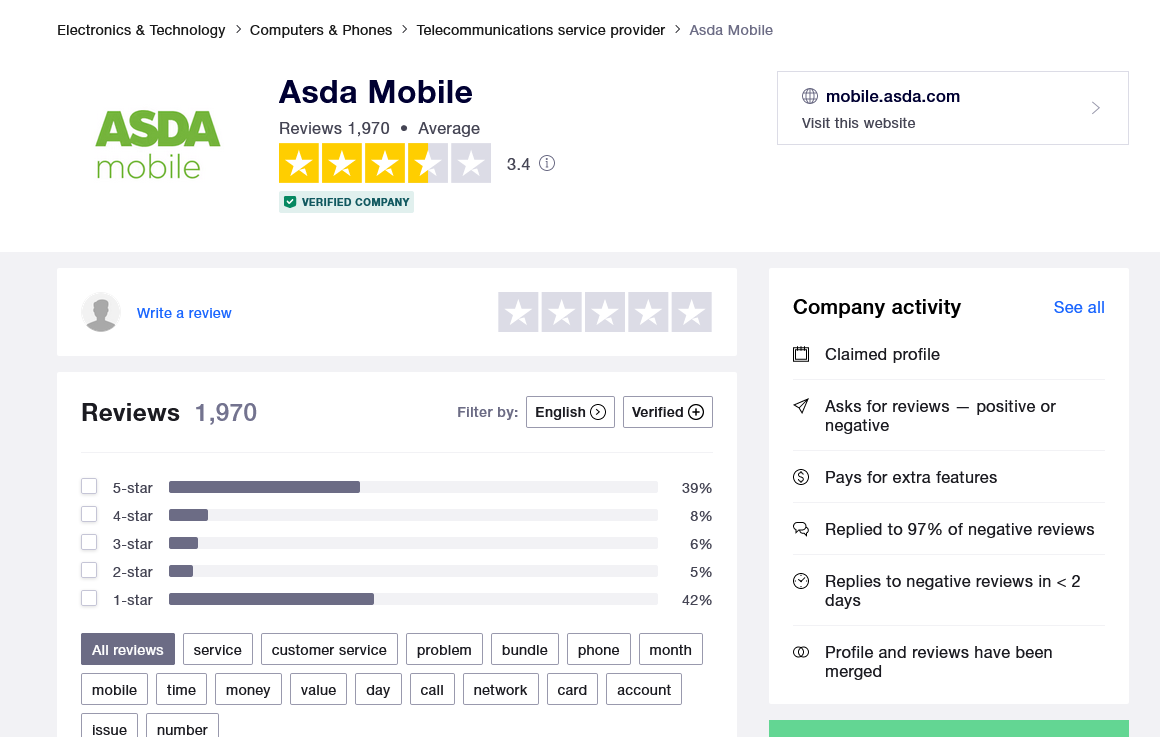 Does Asda Mobile do PAYG?
Asda Mobile offers traditional Pay-As-You-Go. Customers can order a free SIM card and top it up as needed. Each minute, text, and MB is charged, and voicemail and multimedia messaging are charged 25p each. Top-ups can be purchased over the phone, via text, or in-store at an ASDA supermarket. You'll need to register your credit card when you top up.
Conclusion: Is Asda Mobile any good?
Asda Mobile's network has 99% coverage for 4G in the UK. Despite these statistics, customers are still left wondering if the network is good enough. Fortunately, the network has an incredibly low number of complaints. Asda Mobile's network also offers very good value for money. With a low price tag, you'll be able to save more money by paying less in the long run.
If you want all the bells and whistles such as free Disney+ months, or a free gift, or superfast 5G, then try another network. If you want truly unlimited data, try another network.
While Asda Mobile's data allowances are not particularly large, they are competitively priced, and the unlimited data bundles are a good way to make the most of your money. However, the network's customer service is mediocre. This may be a result of a lack of customer care, but as a general rule, ASDA's mobile network has the poorest customer service of any UK mobile network.