ID Mobile Review &amp Coverage – Is ID Mobile any good in 2023?
In this iD Mobile UK network review and coverage guide, we'll take a closer look at what works and what doesn't. In short we're here to help you decide if you should switch to an iD Mobile SIM deal, or skip it.
This company's network is on the Three network and offers a pay as you go plan. Compared to other UK mobile providers, iD Mobile compares well, but is it worth considering?
iD Mobile Review: Is it worth it?
ID Mobile occupies a curious part of the UK SIM-only niche. It's not the most fully featured, it's not the fastest, it's not the most well known. But where it excels is the price. It's hard to beat a lot of ID Mobile's monthly prices, particularly when you consider what you're getting.
There are many networks in the UK, but iD Mobile is one of the least expensive and has recently become a 5G network. So you can now get 5G on your cheap SIM Only deal.
The ID Mobile brand is owned by Carphone Warehouse, one of the largest mobile phone retailers in the UK. While iD has not growing as quickly as some of the other MVNOs in recent years (its marketing spend is no doubt less), it has made great strides to catch up with them. It is a fairly new brand, and it's growing fast.
The nearest competitor we can think of, is VOXI for SIM Only.
ID Mobile: A Quick History
Carphone Warehouse has created its own mobile network, iD, in a bid to reduce costs and allow customers to use data outside of the UK. The new network will be supported by Three's 4G network and will offer unlimited roaming in 22 countries. The new network is a competitor to Lyca and Three, but will run on the same network. In addition to using Three's infrastructure, iD will be one of the cheapest networks in the UK.
iD is available at Currys stores, as well as online. If you're interested in changing your current plan, you can switch your phone plan by using your iD SIM card, which will change your plans for 24 hours. The company has signed a multi-year agreement with Vodafone UK, which is the parent company of iD. They will also be launching new packages later this year.
Which Network Does ID Mobile Use?
If you are looking for a UK mobile network review, then you may be wondering if iD Mobile is right for you - and what network it piggybacks onto.
The good news is that iD Mobile uses the same network as Three, and offers nearly identical 3G, 4G and 5G coverage to its rivals. If price is your main concern, you might want to give this mobile network a try.
iD Mobile's network is similar to Three's, but their prices and perks are different. Naturally, as with any MVNO, they are cheaper than the "main" network but that is because they have less features.
If you want a cheap, reliable network, iD Mobile is a great option though, don't be discouraged. The company's MVNO service is available in many areas and offers good coverage for its customers.
To make it easy to use, ID's website features a comparison table of the different SIM Only plans: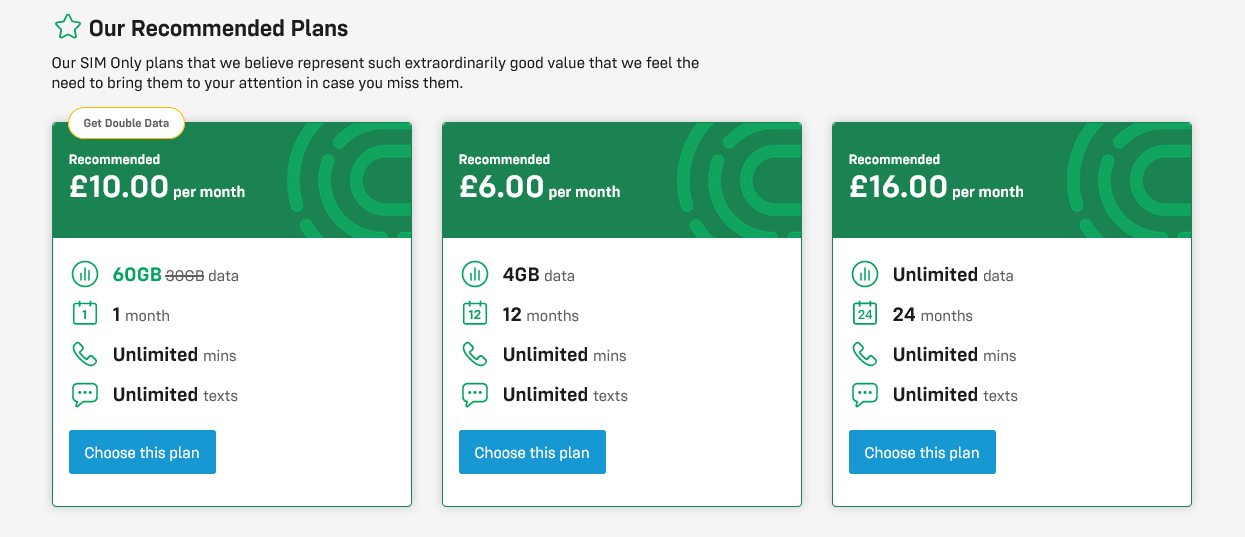 However, you can always search websites like SIMOnly.Deals to compare ID Mobile *plus* ALL the other networks in one place... Click here to view all iD Mobile's SIM-only deals.
ID Mobile Review: How Good Is 5G?
Three's network has 99% mobile network coverage and 5G connections around the country; it is growing weekly. In other words, the company's 5G network is still getting built, and it's promising to deliver the UK's fastest 5G connection around. Three and EE have pretty much gone to war over 5G and are both locked in a game of thrones-style battle to come out as the winner.
We will have to wait and see if these bold claims are true, but for now, read our EE network review for 5G coverage issues.
ID Mobile: Coverage, is it any good?
iD Mobile's network is largely similar to that of EE, O2, and Vodafone - compare their SIM Only plans.
Their network covers 99.8% of the population in the UK. Some major cities that are included on iD's network for 5G include Blackpool, Bournemouth, Bradford, Brighton, and Bristol. iD Mobile also supports Watford and Stoke-on-Trent.
If you want the full list of 5G coverage and to see if it's near you, check the map below, or the Three 5G coverage page (remember, they use the same network. If you can get Three, you can get ID Mobile).
As you can see, the 5G coverage is pretty big now across the UK; and nearly everyone can get 4G as a backup. Even small towns and some villages are receiving 5G signals from the Three network.
ID's Best pay-as-you-go plans
If you're looking for a mobile network that gives you the flexibility and freedom to choose your own data limits, ID Mobile is a good choice.
They have a range of pay-as-you-go SIM plans for every budget, with a wide range of call and data allowances. For the most part, these plans include unlimited calls and texting, a monthly data allowance of your choice, and bill capping. You can also choose from 30-day, 12-month, and 24-month contracts to suit your needs.
Why is ID Mobile so cheap?
iD Mobile is an inexpensive mobile network in the UK, offering both SIM-only and also monthly contracts with a phone - view their plans here.
ID Mobile offer inclusive texts and minutes with all SIM Only plans. They also offer a wide variety of smartphones and tablets, including the latest models from Samsung and Apple.
So why is ID Mobile so cheap? It is because they use the Three network, they aren't allowed to offer everything that Three offers. This means that ID lacks streaming offers, loyalty rewards, and free content.
Free WiFi calling
iD Mobile's WiFi calling feature allows users to make calls over Wi-Fi networks. This service is available on a selection of handsets, and you can check your handset compatibility with the network on the ID Mobile website before making a call. However, WiFi calling is not free, and users will need to pay for their own data when using this feature. Furthermore, iD Mobile doesn't offer free WiFi hotspots, so users will have to rely on WiFi from cafes to stay connected. In addition, WiFi calling is not supported by iD Mobile's network, so users of 2G handsets will need to use other networks, such as Three, to stay connected.
If you're using iD Mobile's network, you'll need to download the ID Mobile WiFi app to your smartphone. Once you've installed the app, you'll be able to make calls on your device. The app will automatically detect WiFi-capable devices and will show the WiFi calling icon on your phone screen. Once you've done this, you can use the WiFi calling feature to make calls, texts, and even FaceTime from your mobile phone.
Wi-Fi calling is very convenient and easy to use. Wi-Fi networks are everywhere, so it's easy to stay connected even when you're not near a mobile signal. You can use your phone's Wi-Fi signal to keep your conversation going, and you'll still receive calls and text messages. It's a great feature that iD Mobile offers, and you should consider it if you're looking for a low-cost mobile network.
ID Mobile Review: Is the data rollover legit?
There are several mobile networks in the UK which offer SIM only data rollover. Virgin Mobile, EE, giffgaff and O2 are some examples. Other mobile networks that have started to offer data rollover in the past 12 months are Plusnet Mobile, BT Mobile, and SMARTY. But you need to check with your network first to make sure that they have this feature. Using data rollover is a great way to get more data for your money.
When you pay a monthly bill, you won't be charged for data you don't use. Some people say that this is not true though. If you have a data rollover plan, the amount you don't use will be added to the next month's allowance.
The best thing about this plan is that you can use it to make more calls, text messages, or browse the internet. It's even possible to use your data rollover on a different network if you need to.
Data rollover is an amazing feature to have on a mobile phone. It means you can use up to 50% more data than you had last month, and it's free. Some UK mobile networks let you carry over data for up to three months. The more you use your phone, the more data you can use, and the more money you'll save. However, data rollover doesn't apply to data that's already expired.
ID Mobile Customer Support
At the time of writing, ID Mobile has a rating of 4.0 out of 5 on Trustpilot, which is 'good'.
Other networks, however, have higher ratings. For example Lebara's SIM Only tariffs have a rating of 4.5 out of 5.
Most of the issues reported with ID Mobile are related to hidden charges. As above, it pays to double-check the small print. Sadly a lot of the terms and contract details aren't as straightforward as they are with other networks.

ID Mobile: Roaming and how much it costs
If you are planning a holiday, the iD Mobile UK mobile network has the perfect plan for you. The inclusive EU roaming plan gives you unlimited calls and texts within the UK, as well as unlimited calls to countries within the Band 2 roaming zone. You can use the inclusive EU roaming plan in all 50 EU countries, and it's easy to see why it's such a great deal.
Be aware that only specific ID Mobile plans come with anything above basic roaming, so check the smallprint.
If you're worried about roaming charges after Brexit, don't worry. Vodafone has rolled out a range of new 'Xtra Plans', each with its own set of 'Xtra benefits'. Those who buy four or five Xtra benefits will have no roaming charges within the EU. The other Xtra Plans let you use your phone in 83 countries for free.
All Xtra Plans have a fair usage limit of 25GB, and you'll be able to use your phone abroad without incurring additional roaming costs.
What is an alternative to ID Mobile?
SIM Only by Giffgaff, another up and coming UK network, offers inclusive roaming in many European countries. Giffgaff customers can use their mobile data, texts, and call allowances for free in over thirty countries in the EU. However, customers with Pay As You Go plans will pay the standard UK roaming charges. Giffgaff customers will be able to use up to 20GB of data free of charge, but after this limit, they will be charged at ten pence per MB.
If you're massively into roaming then check out Lycamobile too.