Reasons to choose a SIM Deal for EE:
EE UK SIM Only Deals and offers are a great way to save money every month. With its largest and fastest network in the UK, EE offers a huge range of plans that are cheaper than other networks.
Its smart benefits are another plus for EE users, making their SIM Only plans more affordable than many other provider's SIM only plans. Read on to discover more about EE's smart benefits.
And remember that SIM Only is nearly always cheaper overall, even if you buy the phone outright.
EE's 5G network is the biggest in the UK
EE's 5G network is now available in over 50 cities across the UK, making it the largest in the country.
Its new network is expected to improve service in towns including Blackpool, Clacton-on-Sea, Norwich, Eastbourne, Slough, and even as far down as Truro. Since the network was first launched, EE has made significant improvements in coverage and speed. The rollout also extended to Exeter, Great Malvern, and Hastings in recent weeks, and it keeps growing; you can view EE coverage here (4G).
Here's a map of their 5G coverage: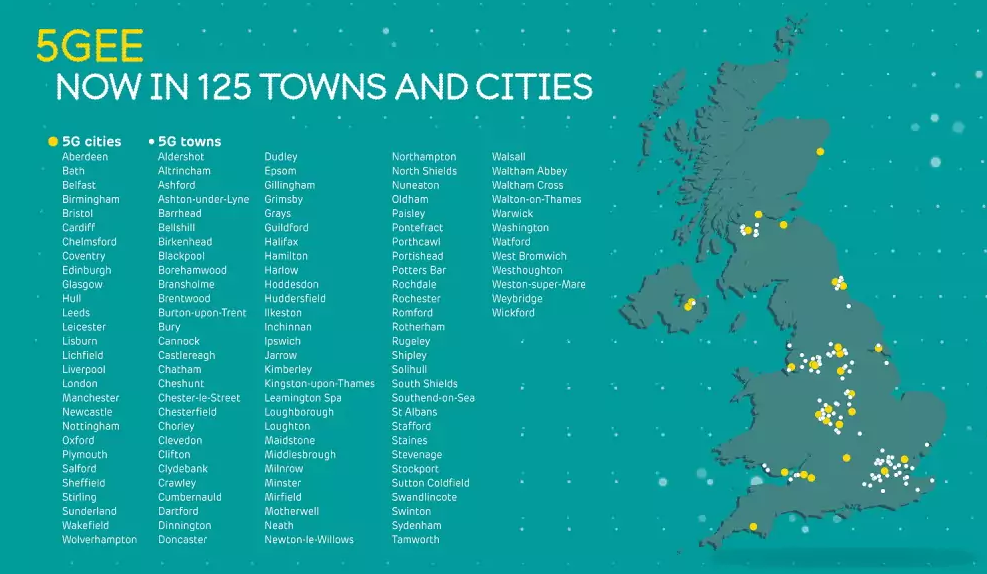 While EE's 5G network is the largest in the UK, competition from Three is gaining momentum.
Plus, EE may not be quite the fastest - even if it is the biggest. For example, in RootMetrics tests, Three came out ahead in median 5G download speeds, but EE was ahead in the fifth percentile (a measure of speed consistency) of the test. While EE and Three's 5G networks share the same spectrum, Three is one of the few operators in the UK with 100 MHz. Three has made some controversial claims that it is offering "real" 5G, but it remains to be seen if it can deliver the hype.
While Three's 5G plans have the largest data allowance, they are not the fastest. The EE and Vodafone networks are much faster in uploads and latency, but their network coverage is limited. Furthermore, EE's 5G network is also much more expensive than their rivals. Ultimately, the best choice depends on your needs. It's important to check the coverage of your area before making a decision.
Can I still get 4G with EE SIM Only?
Yes.
EE has launched its next-generation 5G network around the UK and plans to roll out the service to more areas on an ongoing basis - they started all the way back in 2017. The new technology brings faster internet connections than 4G, and the company has already recorded peak download speeds of 429Mb/s.
The entire 4G and 5G network has a wide coverage area, with EE's network covering 105 towns and cities in the UK, equivalent to more than 60 percent of the country. EE's 4G network is the fastest in the UK, and the company says it will reach ten million customers by 2024.
If you're not in a 5G area, then don't fret.
According to a study EE has the fastest 4G network in the UK. Thousands of smartphones were used to conduct the tests and EE came out on top in all categories. The company is also the leader in speed and reliability, with Vodafone and Three rounding off the top three.
The report also says that EE will soon launch 5G anywhere in the UK. It plans to add 4500 square miles of new rural coverage. Well, thankfully, this has now happened and 5G is here - check out 5G only SIM only Deals if you're looking for massively fast 5G data only.
Which networks use EE?
As you may be aware, EE are actually owned by BT. And Plusnet are owned by BT.
So in other words, BT, EE and Plusnet are all pretty much the same company, though they are run separately. With that in mind, it's easy to see who is using the EE network as an MVNO. These networks are piggybacking on EE:
Can't I just use any of these networks if I can get a signal with EE?
Generally, yes.
If you don't mind not having 5G - check first with the sub-network. Not all sub-networks have 5G. For example at the time of writing, Plusnet does not.
The reason is because, presumably, EE want 5G users to spend a bit more and go with the EE contract. Eventually it is inevitable that ALL of the UK networks will have 5G connection, but this is a long way off yet.
EE's SIM-only Plans - are they good value?
If you're a heavy data user, you might find that data-only SIM plans are the way to go.
Or consider an unlimited data plan if you want to cover every base. Not only do they offer data (obviously!), but also often minutes and texts, but they're also 5G compatible, meaning that you can use the data on a 5G handset with no problem. These deals are also good if you're a family member who wants to share data with everyone.
As the largest phone network in the UK, EE offers an array of benefits to its customers. It has one of the most advanced 5G rollouts in the UK, as well as some of the most comprehensive coverage. However, EE tends to be expensive, which means that if you're looking for bigger data packages, Three is the better option.
All of its SIM-only plans come with 4G and 5G connections, and Three is often the best value option when it comes to unlimited data.
If you're not bothered about 5G then Plusnet or Smarty are our top picks.
Often, SIM-only deals are cheap and with EE they are available on four contracts, ranging from one month rolling contracts to twelve, eighteen and twenty-four month contracts. Two years seems a long time to have a contract but it's quickly becoming the norm.
EE's offers also available from third-party retailers. EE offers deals across the full spectrum of data caps, with the best value being found in the 50GB+ region. Additionally, EE also includes many smart benefits, including data-free video streaming and Apple Music subscription.
EE's smart benefits explained
EE's smart benefits let you enjoy a range of extras on your phone.
You can select one, two, or three benefits on your Smart plan, and enjoy unlimited data for the whole month. Plus, with plans up to 100GB, you can even access unlimited 5G. If you're on the go, you can even download games, watch TV shows, and play games. In addition, you can also choose an extra benefit by texting SMART to 150. EE's smart benefits are available to all customers, but some plans allow you to select up to three.
If you're an EE customer, you may be more interested in BT Sport than the Premier League or Apple TV+. Instead, you might be a YouTube or Amazon binge watcher. If that's the case, you'll be thrilled to discover that EE offers Video Data Pass as a Smart Benefit. This gives you unlimited video viewing without eroding your data. Likewise, customers with older handsets can save money with this plan, and it can even help EE compete with VOXI phone packages.
With EE's full works plan, Android customers can take advantage of three Smart Benefits.
This includes free Netflix, Apple Music, and BT Sport. You'll save up to £25 every month and enjoy all of the benefits of a premium mobile phone service. Plus, the Netflix installation will be seamless.
The plan is suitable for those who love streaming movies on their smartphones, as well as those who want to keep up with the latest television and music. If you're a heavy Whatsapp or social media user, check out our VOXI review.
EE's 5G network is amazingly fast!
If you're considering a new phone, there are a number of great EE UK SIM Only Deals available right now. These plans are more flexible than a contract with a handset, and they come with everything from unlimited texts and minutes to 5G-ready phones. You can even get a SIM Only plan with unlimited 5G data for personal use in the UK and abroad (roaming) - the latter is particularly handy if you regularly travel abroad.
EE UK has a variety of SIM card sizes to suit the needs of all its customers - there's a few useful photos here. For example, its standard SIM card is available in three different sizes: micro, nano, and eSIM. Those who own an older phone may still have one of the former. However, if you use a smart phone with an eSIM, EE will accept it.
While EE isn't known for its dirtt-cheap SIM Only deals, its network offers a range of extra benefits that make it an attractive option. In addition to a wide range of benefits, EE offers some of the best speeds and coverage in the UK. Compared to the other major networks, EE also tends to be more expensive. But you can also find cheap EE SIM only deals by using our SIM comparison tool.
Can I get EE SIM Only coverage where I live?
EE has a variety of SIM Only deals available in the UK, including many that include unlimited data. While this is a relatively modest allowance when compared to other networks in the UK, it is still very generous. You can use up to 50GB of data per month.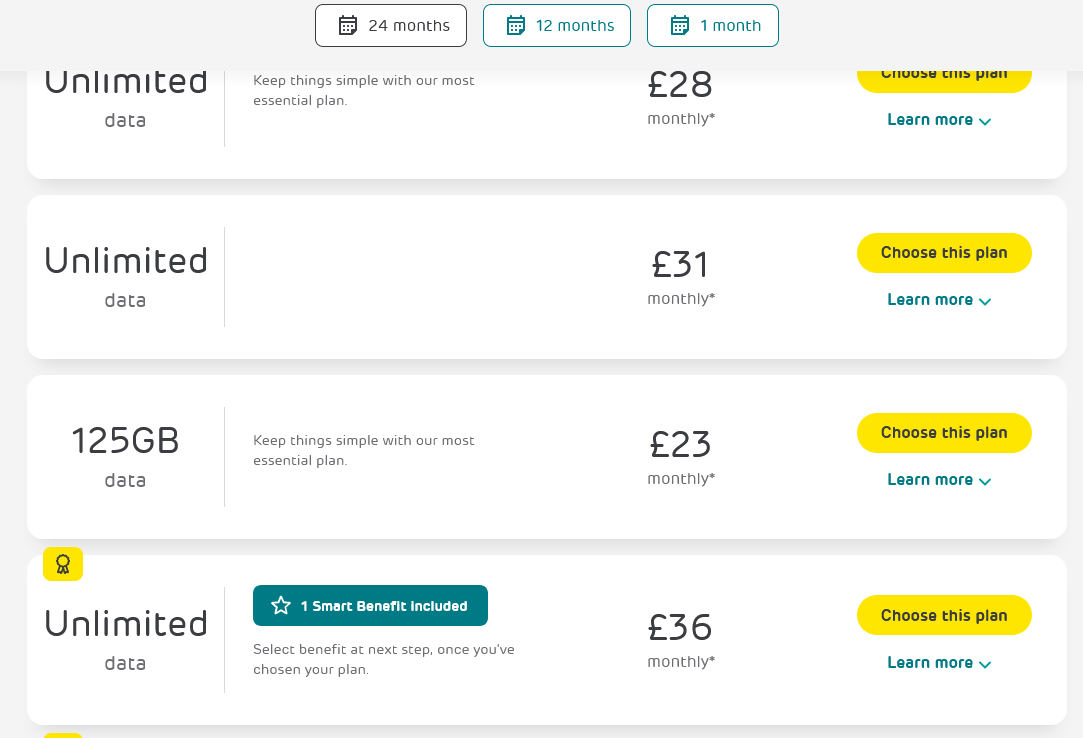 You can also share data with your friends and family, so you don't have to worry about using up all your data on your plan. But what if the coverage is poor, there's little point in having all of these perks if you cannot use them!
EE SIM Only: Conclusion
EE are a well-known brand that have a lot of clout and decent 5G coverage. Their plans aren't always the cheapest but if you need the best, then choose EE.
If you're interested in a SIM only deal from EE, you can find one by searching on comparison sites. If you're looking for a monthly plan, EE isn't the only network that offers these deals. Or consider alternative websites: For example, Uswitch has a plan with 10GB of 4G mobile data, unlimited texts, and unlimited calls. This plan also has a 12-month contract, which means that you can renegotiate at any time if you don't want to keep it.
EE UK claims to have more coverage than any other network in the UK, with coverage ranging from 90% to 100% of the population. The network also has plenty of 4G spectrum, so it can handle even the most data-hungry user. EE SIM Only Deals and offers on its 4G network are very competitive, and the company has several enticing extras available with select plans. Those looking for a 12-month plan can get six months of Apple Music for free.
Cheap EE SIM-Only Deals: Overview
EE Tariff Features
🔥 No. of Good Reviews for EE
45+
🔥 Average EE Tariff
£8 a month
🔥 Avg. Contract Term
2 months
🔥 Typical Data Allowance
22 GB
🔥 Number of Unlimited SIM Plans
4
🔥 EE Credit Check
Not needed
🔥 Accepts UK Customers
Yes
In trying to locate SIM Only deals for a range of networks in the UK, not just EE, we've weighed up the pros and cons of each one. If you're still unsure if EE is right for you then check our summary below of today's best SIM deals for EE. If you still need help, then we suggest to read our FAQS for EE SIM deals below, or you can always get in touch with the SIMOnly.Deals team on socials.
FAQs for EE SIM deals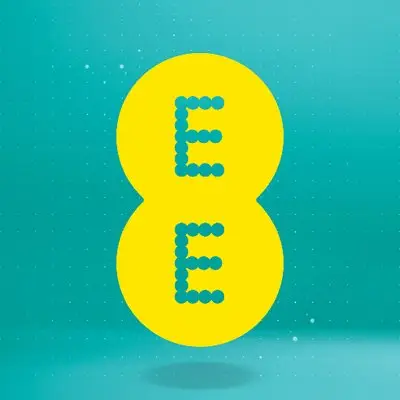 What is the best SIM Only plan for EE?
Currently the best EE SIM-only plan costs £10 giving you unlimited minutes, unlimited texts and of course unlimited data. With EE you can also set a price cap.
Can I get 5G data with EE?
It depends, 5G SIM deals on EE are really popular so make sure you get enough 5G data to cover your needs.
How much can I save with EE 30 day SIM only?
It of course depends on what phone you would have bought. But with a EE SIM Only plan or contract over 30 day, you can of course cancel any time and switch. You are not tied in with EE 30 day deals.