Reasons to choose a SIM Deal for Three:
Three are one of the "Big Four" SIM-only networks in the UK, and with the number of networks & deals growing, it is becoming harder and harder to decide if you should opt for a Three SIM Only deal.
Here you'll find an explanation of Three UK SIM Only deals, including data allowances, contract lengths, and monthly costs. There are so many to choose from, it can be hard to make a decision. To make the process easier, we're going to review the best plans for you.
Make sure to read our Three network coverage review too.
Why choose Three for your next SIM Only plan?
If you are looking for SIM Only Deals in the UK, Three is a great choice. Unlike contract deals with a handset, SIM Only Deals are cheaper and offer more flexibility.
With a SIM Only deal, you can pay only for minutes, texts, and data. You can even get unlimited data for a couple of years, but this won't be cheap. Three has coverage in 98.3% of the UK and its SIMs are compatible with most unlocked phones.
Three SIM Only: Which contract length is best?
All Three SIM Only Deals and offers include unlimited calls and texts, and variable amounts of data. The best value plans, in our opinion, from Three are plans are available on 12-month contracts. Don't overlook the 30 day rolling or one-month plans though.
Generally, the "best" SIM Only deals will include unlimited data, but be aware of the fair usage cap. Three's cap is ridiculously high at 1000GB per month - yes a thousand gigabutes - so that shouldn't be a problem for most people.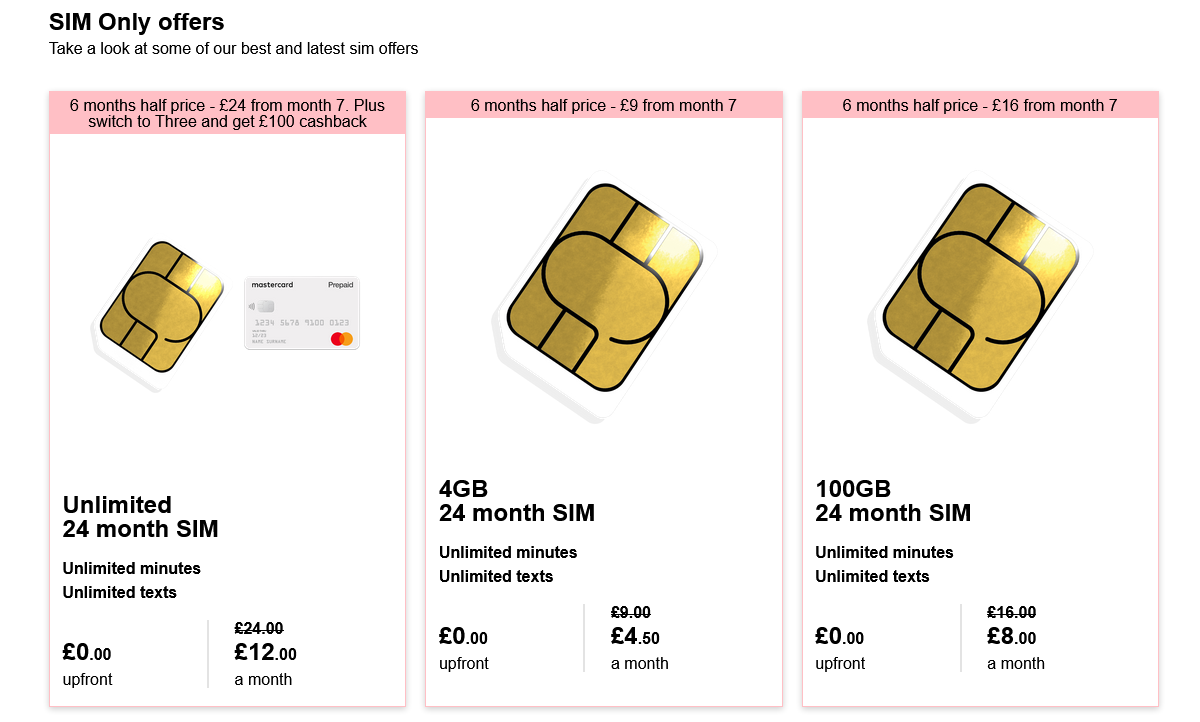 If you're heavily into 5G or data usage, then the cost of a SIM Only deal from Three is usually cheaper than any of the other major networks. It's also cheaper than smaller networks and MVNOs.
What is the cheapest Three SIM only deal?
Three UK SIM Only deals will cost you a minimum of £4.50 per month. You'll be able to save 50% on your monthly bill with the Three SIM Only deal for the first 7 months, and will receive 4GB of data on the plan. The catch is that the price goes up after month 7 - it's a 24 month deal. After month 7, the price increases to £9 a month (double).
If you are looking at SIM Only plans of 24 months, then compare prices here.
Increasingly, Three's pricing is difficult to decipher the 'full cost' for the entire term. If you prefer a simpler network with easier pricing structures, consider instread a Smarty SIM Only offer.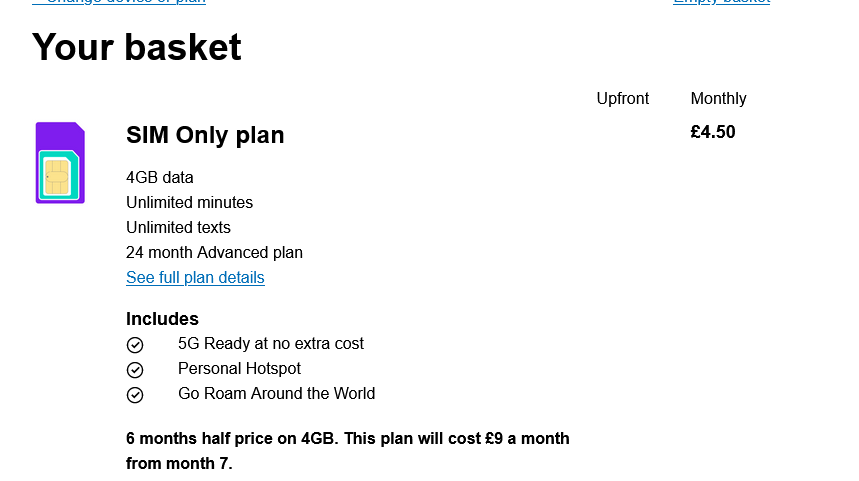 Three also offers a £100 pre-paid Mastercard for switching to Three, which will make switching to the company easy and affordable.
If you're unsure whether Three's plans are right for you, check out the full details of their plans and compare them with other SIM only deals from all networks.
What about Three's network coverage?
If you're worried about network coverage, consider the coverage checker. This special page shows the signal strength for your postcode and provides information on 3G, 4G, and 5G.
Three is famous for having choppy 4G coverage, so if you're in a 4G area, you may want to consider another provider. Also: be aware that Three is switching off the 3G coverage soon, so don't rely on it.
How much of the UK does Three cover?
Three's 4G network covers 98.3% of the UK and supports 4G Super-Voice, which gives you a better indoor signal and clearer voice calls. This is similar to 4GEE from EE - read our 4GEE review here.
Three's network is also a top contender in 5G speeds, and the company is currently rolling out the technology in more areas across the UK. It has more spectrum than any other 5G network. Compare all our 5G SIM deals now.
The best Three UK SIM Only Deals and offers will give you unlimited data, no usage limits, and great deals. You can enjoy unlimited data and no speed or data caps, and Three offers Personal Hotspot, 4G Super Voice, and VoLTE. You can also take advantage of free WiFi on the London Underground. All this will make Three UK SIM Only deals even better. You'll be glad you chose Three as your mobile provider.
Three SIM Only: Data allowances explained
You've probably already heard of Three's SIM-only deals, but have you ever wondered whether they're the right choice for you? The UK mobile network offers SIM-only plans with low upfront costs and low monthly payments.
With Three SIM-only deals, you only pay for the data, texts, and minutes you use - there's no need to worry about going over your data allowance. If you're on a tight budget, SIM-only plans are the ideal choice for you.
With these SIM-only plans from Three, you can enjoy unlimited data and unlimited texts. Three offers a wide range of data allowances for their customers, and their Advanced plan boasts a comprehensive inclusive roaming scheme.
Three SIM Only: About WiFi-Calling
Customers on Three can also use their phone's Wi-Fi connection to make calls, although these may still come out of your monthly calls allowance on some networks - check the smallprint.
Additionally, customers on the Three Advanced plans can use their entire data allowance for tethering.
Users of Three's SIM-only plans will also benefit from unlimited data within the UK. In addition, customers can opt to use the Go Roam feature abroad. This will result in a fair usage limit of 12GB per month. As a bonus, customers will also be able to use 5G, allowing them to enjoy peak download speeds of 1,000Mbps.
The amount of data you'll need will depend on how much you use the internet and how many texts you send. You may need as little as 1GB for basic use, while a large allowance might be needed if you download lots of music or stream videos. Using a data-only SIM card can also help you save money as it's less expensive than a contract. It's also more flexible and allows you to make changes as necessary.
Which is the cheapest Unlimited SIM Only plan?
This changes often, but at the time of writing, Three has the cheapest Unlimited Data SIM plan in the UK.
With a monthly fee of £8 for 24 months, Three Mobile's unlimited data bundle offers unlimited text messages and calls. As an added bonus, the company will also upgrade your plan to support 5G for free. Three also offers a £6 data deal with unlimited text messages and data for 12GB. If you're constantly downloading films or software, your mobile data allowance can be wiped out in a matter of minutes. If you're on a tight budget, the best option is to opt for a data-only plan.
Contract lengths on Three UK
When choosing a SIM only deal, it's worth checking the fine print. Most networks state upfront that your monthly payments will rise in line with inflation. While this may be the case, there are also deals that promise fixed prices for the length of the contract. The downside is that your payments can increase significantly, sometimes as much as 12%, depending on your network and the length of your contract. To make sure that you're not getting stuck with an expensive contract, you need to make sure that you're making the best decision for your needs.
Compared to a contract-based plan, SIM Only deals offer better value in the long run. They give you greater control over your spending, are cheaper monthly, and often come with shorter commitment periods.
You can find SIM Only deals from all major phone providers, including BT, Plusnet, and Sky Mobile here at SIMOnly.deals and compare for FREE. SIM-only plans typically provide more data, texts, and minutes, and cost less than plans with handsets.
UK SIM Only deals come with a variety of contract lengths, ranging from one month to 12 months. While it's a good idea to consider contract lengths when choosing a SIM-only plan, remember that monthly plans are the most flexible, and should be considered if you can't commit to a lengthy contract. Also, make sure you compare the contract lengths so that you can get the best value for your money.
One of the drawbacks with Three, is its customer support. The Trustpilot page is filled with negative reviews, most of which relate to their Indian-based support service. So if you want a UK based provider, consider something like Plusnet instead.
Be aware though, Plusnet SIMs is using the EE / BT network, so it's a completely different network and coverage area to Three.
What networks use Three's network?
In the UK, there are the "Big Four" networks, and they all sub-lease their network out to smaller players. These are known as MVNOs.
Three is no exception, their network is leased to:
If you're looking to save money on a Three plan, and don't need some of the flashier parts such as unlimited data or 5G, then check out these sub-networks. You'll be surprised how much cheaper they are.
Costs of using a Three SIM-Only plan (Updated)
To get the cheapest deals on a SIM Only contract, you should know what to look for. The SIM Only industry has no seasonal rhythm and deals can be purchased year-round. However, the major companies often offer significant discounts around certain holidays and times of the year. For example, during the Black Friday and Cyber Monday sales, they target students with special offers. Moreover, during Christmas time, they aim to sell as many contracts as possible.
If costs concern you, then compare it SIM plans with a company like Smarty instead. Smarty run on the Three network so there is no change there; you cannot currently get 5G on Smarty but this means the costs are a lot less too.
If you're interested in 5G data plans then make sure to check our 5G plans guide here.
One of the main advantages of Three SIM Only deals is that they are cheap for 5G and offer a lot of data. You can choose from a variety of SIM packages, ranging from 4GB of data to unlimited 5G data plans, and all this without breaking the bank.
What if I don't use much data?
If you use less than 5GB of data per month, you can even opt for a SIM-only deal with no included data, but these are not available on Three. You will need to look at O2's offers if you don't want any data allowance at all. The O2 network is one of the largest in the UK and is rated as the most reliable in the country. Moreover, you can also benefit from their flexible contracts and O2 Priority extras and Bolt-Ons.
Back to Three, another perk of Three SIM Only plans is that they allow tethering and use as a personal hotspot in the UK. . As for the coverage, Three has 99.8% coverage in the UK's cities and towns compared with 99% for O2.
Additionally, its 5G network covers more than 300 towns and cities, making it one of the molst widespread in the country.
Do Three do Credit Checks for SIM Only?
Yes. Three will do a 'soft' credit search for all new SIM only plans, including 30-day contracts. Longer plans like 24 month will also get a credit check before you are approved.
If you are looking for no credit check / bad credit SIM plans, then Three might not be your best bet. Read our Bad Credit SIM Only Plans guide to find out more.
Conclusion: Three SIM Only Plans
A SIM Only deal is the best option for those who value flexibility, and Three is no exception.
You can enjoy a cheap contract for a few weeks while you choose your new phone as Three offer 30-day rolling contracts too. But if you are looking for an ongoing 1 month contract then definitely consider another network as Three are not the best value here. Somewhere like Tesco Mobile instead is better.
Three's is perfect for those who use a lot of data, particularly 5G data. They have the fastest 5G network with the widest spectrum in the UK. You simply cannot beat their 5G offering at the time of writing.
However, Three's SIM Only deals are not suitable for everyone as they are not inclusive of that many perks, Bolt-ons or free upgrades. Their pricing is also a bit confusing, with various "free month" offers. Make sure to do the maths before buying. In fact, you can end up spending more money on a SIM only plan than you would have if you'd got the phone on pay monthly.
Cheap Three SIM-Only Deals: Overview
Three Tariff Features
🔥 No. of Good Reviews for Three
312+
🔥 Average Three Tariff
£10 a month
🔥 Avg. Contract Term
2 months
🔥 Typical Data Allowance
13 GB
🔥 Number of Unlimited SIM Plans
2
🔥 Three Credit Check
Not needed
🔥 Accepts UK Customers
Yes
In trying to locate SIM Only deals for a range of networks in the UK, not just Three, we've weighed up the pros and cons of each one. If you're still unsure if Three is right for you then check our summary below of today's best SIM deals for Three. If you still need help, then we suggest to read our FAQS for Three SIM deals below, or you can always get in touch with the SIMOnly.Deals team on socials.
FAQs for Three SIM deals
What is the best SIM Only plan for Three?
Currently the best Three SIM-only plan costs £10 giving you unlimited minutes, unlimited texts and of course unlimited data. With Three you can also set a price cap.
Can I get 5G data with Three?
It depends, 5G SIM deals on Three are really popular so make sure you get enough 5G data to cover your needs.
How much can I save with Three 30 day SIM only?
It of course depends on what phone you would have bought. But with a Three SIM Only plan or contract over 30 day, you can of course cancel any time and switch. You are not tied in with Three 30 day deals.